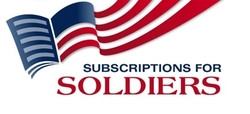 Franklin, TN (Vocus) February 12, 2009
Magazine subscriptions are the number one requested luxury item on active-deployed service members' wish lists. Subscriptions for Soldiers, presented by Magazines.com, makes donating magazine subscriptions affordable at just $10 per subscription donation and easy. Choose from 30 magazine titles like Guns & Ammo, Muscle & Fitness, Shape and Star.
To send a magazine subscription visit http://www.subs4soldiers.com and donate to a service member you know or be paired anonymously with a service member through Subscription for Soldiers' database of requests. More than 3,000 service members are signed up to receive their favorite magazine.
At the heart of Subscriptions for Soldiers is an effort to connect service members, those they serve and the life we all cherish.
About Subscriptions for Soldiers
Subscriptions for Soldiers provides citizens and corporate sponsors the opportunity to show support to troops deployed overseas by sponsoring a magazine subscription. Service members sign up for free one-year subscriptions at http://www.subs4servicemembers.com . Subscriptions for Soldiers then pairs that service member's request with a subscription sponsor. Individuals who want to sponsor a service member's subscription visit http://www.subs4soldiers.com and make a donation of $10 or more to give a free subscription to a service member overseas. For more information on Subscriptions for Soldiers, visit http://www.subs4soldiers.com or call (800) 673-1289.
About Magazines.com
Magazines.com is a privately-held company based in Franklin, Tenn. Major investors in Magazines.com are Anderson Media, one of the top U.S. wholesale distributors of magazines, music, books, and videos and Time Inc., publisher of People, Sports Illustrated and Time magazines.
With more than 1,900 titles available, Magazines.com offers people a fun, easy way to discover new magazines and helps them track subscriptions. Magazines.com is the leading independent agent selling subscriptions, serving customers online at Magazines.com and by telephone at 800-MAGAZINES (800-624-2946.)
Contact:
Jim Tully, Managing Director
Subscriptions for Soldiers
jtully(at)magazines.com
615-778-2104
###