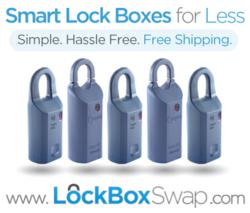 So far, 2012 has brought a loyal following of real estate agents to LockBoxSwap looking to buy a Supra iBox Lockbox GE at a price point they simply can't find at their local association
San Diego, CA (PRWEB) March 16, 2012
To help prepare for this projected "boom" in the real estate market, LockBoxSwap has become the go-to shop for real estate agents looking to purchase a used Supra Lockbox for less than retail price.
"So far, 2012 has brought a loyal following of real estate agents to LockBoxSwap looking to buy a GE Supra Lockbox (Supra IBox) at a price point they simply can't find at their local association," said LockBoxSwap Logistics Manager, Michael Fischer. "Everyday, we are receiving phone calls and emails from REALTORS® who have heard about our low prices, and we have been happy to provide them the simplicity, quality service, and affordability they've been searching for."
In 2012, the National Association of Realtors projects existing-home sales will rise 6.8 percent to 4.55 million units. More projected sales means more listings for real estate agents, and hopefully, more closed transactions and satisfied clients for our REALTOR® colleagues.
With a large inventory of deprogrammed and fully functional Supra iBoxes, LockBoxSwap is here to help any real estate agent purchase a lockbox to accompany their Supra eKey (Supra Key) and ultimately provide the security of an electronic lockbox to their real estate clients. "We truly believe that every real estate agent should be able to provide their clients with the security of a GE Supra without paying full price," says Fischer.
As mortgage giants like Fannie Mae pass regulations requiring REALTORS® to use electronic "smart" lock boxes on REO and foreclosure listings, the service LockBoxSwap provides could not come at a more opportune time. With a clean and easy-to-use platform, LockBoxSwap takes the hassle out of the process of buying a GE Supra, offering free shipping and deeply discounted pricing on a tool that is increasingly necessary for REALTORS® in 2012.
See what America's REALTORS® are raving about at LockBoxSwap, and get ready for the real estate turnaround we've all been waiting for.
With free shipping, deep discounts off retail prices, and a REALTOR® -managed team to assist you throughout the process, LockBoxSwap is the one-stop shop for all REALTORS'® Supra Lockbox needs. No more hassle. No more haggling. No more leaving your office. Just a guaranteed realtor lockbox delivered to your door. "Welcome Home REALTORS®"
To lock up your listing for less, go to http://www.LockBoxSwap.com. For large volume orders (20+ units) call Michael Fischer, at (888) 835-2540.