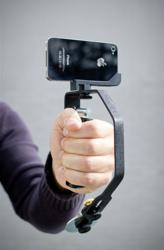 The result is a stabilizer that is convenient, easy to use and works with a wide variety of cameras from smartphones to DLSR cameras
Cambridge, MA (PRWEB) July 10, 2012
Amateur filmmakers and home video makers can now achieve professional results with the Picosteady, a new compact, lightweight camera stabilizer. Following 10 months of product development, Cambridge, MA based Supraflux has launched an innovative camera stabilizer that allows for smooth, stable footage without the bulk and at a fraction of the cost of other stabilizers currently on the market. The Picosteady can be used with DSLR cameras, point-and-shoot cameras, GoPro cameras, iPhones or any smartphone. The Picosteady launched on Kickstarter July 3, 2012.
At a 7 oz base weight, the Picosteady is the lightest and most compact camera stabilizer available on the market. Although some other camera stabilizers are available for amateur filmmakers, none are as compact as the Picosteady, allowing it to be taken anywhere easily. The stabilizer will retail at $179, but is now available for pre-order on Kickstarter at $139 for the first production run.
The seeds for this new company were planted when brothers Karim and Nadim Elgarhy started to shoot amateur film. They came across the same problem other amateur filmmakers all eventually face, hand-held cameras result in shaky footage that gives viewers a headache. They wanted smooth videography, the kind of floating camera footage seen in professional films. However, the professional videography equipment used in filmmaking costs thousands of dollars and can weigh dozens of pounds. Even those stabilizers considered lightweight for amateur filmmakers typically weigh about 3-5 lbs. The brothers, both engineers, set out to design a stabilizer that suits amateur filmmakers' needs and budget and can be taken anywhere easily.
The result is a stabilizer that is convenient, easy to use and works with a wide variety of cameras from smartphones to DLSR cameras. The stabilizer's light weight belies its robust construction. It's made of high-grade aluminum and solid brass to ensure long-term durability and the balancer arm is laser cut and powdercoated (a process that coats the surface to make it more resistant). Designed to be taken everywhere, its solid construction is made to handle years of use.
Funds raised in the Kickstarter campaign will go towards making bulk purchases of materials and order a first production run of 100 units. This will make it possible to keep the price low and to have the Picosteady manufactured in the USA. The Picosteady Kickstarter campaign is at http://www.kickstarter.com/projects/86612749/the-picosteady-video-camera-stabilizer .
For additional information or to request an interview contact:
Karim Elgarhy
Supraflux LLC
348 Franklin St Suite 2C
Cambridge MA 02139
Phone: (617)682-9301
Email: karim(at)supraflux(dot)com
http://www.kickstarter.com/projects/86612749/the-picosteady-video-camera-stabilizer