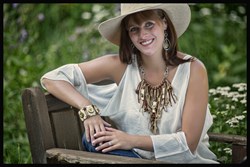 Regardless of your relationship with guns and ammunition, just about anyone from any walk of life can find something appealing in the SureShot™ Collection.
St. Louis, Missouri (PRWEB) November 30, 2013
Anne Jansen, founder/designer at upcycled jewelry company Key of A®, is pleased to announce the launch of a new retailer-friendly e-commerce website, http://www.sureshotjewelry.com, which will cater to stores, gun shops and boutiques interested in becoming retail partners for the popular shotgun casing and bullet casing jewelry line, SureShot™, as well as consumers looking for stylish men's and women's jewelry that embraces the essence of the outdoor life.
The website offers easy navigation, browsing by category, product search capability, and enhanced checkout and—for retailers—a dedicated, secure retailer log-in.
SureShot™ is the leader in the marketplace for shotgun casing and bullet casing jewelry and accessories. The made in the USA line is recognized for its distinctive style and quality materials and showcases innovative designs that echo today's fashions and trends in men's and women's jewelry, all with components of bullet and shotgun casings as its focal element. The collection is priced from $25.00 to $275.00 and features over 165 styles, including necklaces, bracelets, cuffs, earrings, rings, men's jewelry and accessories, and more.
Up until now a limited number of pieces from SureShot™ have been sold through Key of A's other platforms. The new website unveils the Collection in its entirety and also incorporates an "Outdoor Jewelry" category that features stylish jewelry designed using fishing tackle, deer antlers, waterfowl bands and more.
To celebrate the launch of the new website, shoppers visiting sureshotjewelry.com on Cyber Monday will enjoy free shipping on all orders over $40.00 by selecting the CYBER40 option at checkout. Offer ends at midnight CT on December 2.
Jansen, who is an outdoors woman herself, says, "Hunting and shooting is a way of life for millions of Americans. I could see there was no comprehensive men's and women's jewelry and accessories line that spoke to those involved in the sport and made it my mission to design such a collection. My hunch was right and over the last two years, SureShot™ has established itself as an innovator and leader in this niche."
The SureShot™ collection is in many retail locations across the country. Current retail partners interested in seeing the entire collection, as well as those who have waited to order until they could do so online, will be pleased with the timing of the launch, which coincides with the fall hunting season and the kickoff of holiday shopping.
One of the biggest fans of SureShot™ is celebrity chef and author Georgia Pellegrini, a/k/a "The Girl Hunter." Most recently, Georgia wore pieces from the Sureshot™ collection during an "Adventure Getaway" that was filmed by HBO for an upcoming episode of "Real Sports with Bryant Gumbel." Georgia has also worn SureShot™ during appearances on "Jimmy Kimmel Live," "Fox News" and "Inside Edition."
Georgia is always accessorized with SureShot™ while demonstrating and/or speaking at major hunting and outdoor expositions around the country, and includes SureShot™ jewelry in the celebrated gift bags she gives to participants in her popular "Weekend Getaways."
Pieces from the SureShot™ collection were also showcased and gifted to the biggest names in country music backstage at The 46th Annual CMA Awards, as well as at GBK's Luxury Gift Lounge in Honor of the Nominees & Presenters for the 2012 Primetime Emmys.
While the SureShot™ collection is geared toward those with a passion for gun sports, Jansen makes clear that it is not the only audience for the Collection; aficionados of urban jewelry and biker jewelry are fans as well. "Regardless of your relationship with guns and ammunition, just about anyone from any walk of life can find something appealing in the SureShot™ Collection."
In the coming months, Jansen has plans for expanding SureShot™ into leather goods and other men's and women's accessories markets.
About Key of A
The inspiration for Key of A® (http://www.thekeyofa.com) began in 2008 with an old Underwood typewriter, a flea market in Chicago and the "trash to treasure" creativeness that Anne has possessed for over 25 years. Anne has an "old soul" when it comes to anything creative in her life. Her artistic endeavors include everything from floral design, interior work, rehabbing historic homes, refinishing furniture, woodworking, landscaping, gardening, and so much more. She has always been able to look at something old and discarded and visualize "what it could be" - a truly right brained thinker!