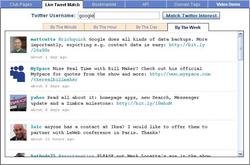 Twitter is a great communication channel with huge potentials, what URLjar.com has been working on is to bring out the potentials for the benefit of Twitter and its users
Encinitas, CA (PRWEB) October 14, 2009
As Twitter is becoming ever popular, more Twitter users have wishes for a better Twitter: the wish to elaborate more than 140 characters per status; the wish to be able to sub-group followers and address them differently; the wish to have status pages that people can comment on; the wish to control and log accesses to status pages; the wish to quickly find and follow Twitter users of common interests; the wish to share multiple URLs using a single short URL... These wishes were what motivated the tool set development at URLjar.com.
"Twitter is a great communication channel with huge potentials, what URLjar.com has been working on is to bring out the potentials for the benefit of Twitter and its users", said William Wu, chief engineer of URLjar.com development team. According to William, the team spotted the opportunities of augmenting Twitter usages in July 2009. Since then they have been working frantically on the tool set development. In less than 3 months, they managed to release their first set of Twitter tools: Domain-tagged 1-for-many URL Shortener, Club Pages, and Live Tweet Match.
For every well known long domain name(e.g. youtube.com), URLjar.com reserved an abbreviated domain name(e.g. utb.im). So URLjar.com can alias a long URL like http://www.youtube.com/watch?v=I53SevFBP0I to a short URL like http://utb.im/RwK. This is so called domain-tagging, a jargon coined by URLjar.com. This unique feature is to bring source transparency to URL shortening. To domain tagging possible, Suresome Inc., the parent company of URLjar.com, had acquired a large number of short .im domain names. The 1-for-many feature of URLjar.com's URL shortener is quite unique too. It merges multiple long URLs into one short URL. When the short URL is opened, multiple targeted web pages are displayed side-by-side, great for comparison shopping or browsing.
URLjar.com developed Club Pages to allow Twitter users to create status pages capable of access control and access logging, so effectively Twitter users can have multiple groups of followers per account. People can also comment on the created status pages. As a side effect, there is no length limit for statuses posted in Club Pages.
Live Twitter Match is handy for finding and following Twitter users of common interests. Given a Twitter username to Live Twitter Match, a profile of the Twitter user is compiled based on her or his statuses and Bio. Then all Twitters users are matched against the profile in real-time, by the minute/hour/day/week, using proprietary algorithms. Live Twitter Match not only makes following Twitter users of common interests like a breeze, it also makes reading tweets more fun by limiting statuses from only users of matching interests.
Just like what one of Suresome's patent lawyers remarked "(URLjar.com) is nothing short of amazing", the development team of URLjar.com are constantly seeking creative ideas. They are known for quick actions for user requested cool features.
URLjar.com, located in Encinitas, CA, is a wholly owned subsidiary of Suresome Inc., a leading provider of multi-sourced categorized search and privacy browsing. For more information of Suresome Inc., visit https://www.suresome.com/.
###