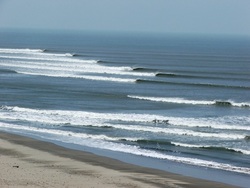 With the 2010 prices being offered, now is the time to surf Chicama and experience the longest left hand point in the world.
Cardiff By The Sea, CA (PRWEB) December 16, 2009
SurfingList Travel and Chicama Surf Resort are offering special pricing for the 2010 season to make visiting the world's longest left hand wave available at very reasonable prices. The excellent surf at Chicama and nearby waves coupled with first rate accommodations make this trip a real bargain in 2010. Prices for 7 nights accommodations including meals and zodiac boat service in the surf start at $895 per person based upon double occupancy.
"With the 2010 prices being offered, now is the time to surf Chicama and experience the longest left hand point in the world. The waves of Chicama and the Cape offer extremely long rides and are good for all levels. I had a great trip to Chicama in 2008 with great surf and am planning on returning in 2010," said Brett Hollman, owner of SurfingList, Inc. and SurfingList Travel.
As far as the surf in the area north of Trujillo, there are a variety of waves in the area worth noting. First, Chicama is considered the longest left on earth. The wave has many barrel sections and on a good day can connect for over a mile. Also, the trades in Chicama keep the wind offshore nearly every day for frequently excellent conditions. The next point south of Chicama which is still available on foot or by the resort's zodiac boat is called the Cape and has been featured in surf videos and magazines. To the south closer to Trujillo are the beach breaks of Huanchaco which offer juicy and exposed beach break waves. Within an hour to the north are the left hand points of Poemape and Pacasmayo. Poemape is known as a hollow, high power reef point and Pacasmayo is known as a super fast performance point break. This area as a whole has high swell consistency with good exposure to south swells during the northern hemisphere's summer months while also picking up north swells during our winter that track south after hitting Hawaii.
Amenities at the resort include a pool, spa, sauna, workout room, game room, TV room, bar, internet, and much more. Massages can also be arranged on site. Tours to the waves mentioned above as well as archaeological tours can be setup at the resort. All this, and for Chicama Surf Resort patrons, zodiac boat shuttles are available to drop you back at the point after a long wave conditions permitting.
In addition to surf travel and finding a surf camp, SurfingList.com offers local surf community pages and forums for different surf communities around the world. If you want to surf Peru or find more information about surf travel to Peru, the Peru Surf Community page ties together surf travel in Peru, surf forecasts, surf reports, used surfboards for sale, and local information such as ding repair, surf shops, beach vacation rentals, and more for the Peru Surf Community. Ads and postings to the community surf pages are free.
For additional information on SurfingList Travel and SurfingList, Inc., contact us via our website at surfinglist.com.
About SurfingList, Inc:
SurfingList Travel is committed to providing the best surf trips available to its clients while its website SurfingList.com provides a free environment where surfers can buy or sell used surfboards, rent beach vacation rentals near the surf, find used surf gear, and find surf travel information and services.
###