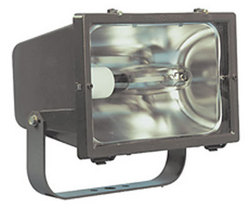 Dallas, TX, (PRWEB) February 9, 2009
Furthering its efforts to add value to customers operating in hazardous location areas, Larson Electronics' Magnalight.com added a series of surface mount explosion proof lighting fixtures. The recent addition of Class 1 Division 1 lights and Class 1 Division 2 lights for permanent mount applications builds on the base of portable and handheld hazardous location lights.
"We have introduced three different 400 watt metal halide explosion proof lights with ceiling and pendant mounting options," announced Rob Bresnahan, President of Larson Electronics. "Building on the success of our popular EPL-48-2L and EPL-48-4L paint spray booth approved fluorescent lights, we saw an opportunity to provide some high powered metal halide lights for hazardous location areas that are outside the paint spray booth. The EPL-PRM-400W-MH is a relatively inexpensive 400 watt metal halide light with a Class 1 Division 2 rating that can be mounted to the ceiling or the wall. The adjustable u-bracket mount enables the operator to set the position of the light even after installation. The long life metal halide bulbs cover an 18,000 square foot work area with 75,000 lumens of light output. This light is ideal for hazardous location areas that occasionally exposed to flammable vapors and not considered confined space areas."
Rob continued, "However, we also saw a need for a Class 1 Division 1 400 watt metal halide explosion proof light. The EPL-HB-400W-MH is high bay explosion proof light that can be ceiling, wall or pendant mounted. Packaged with a wide reflector, this light delivers 22,000 square foot of coverage. This 400 watt metal halide light is also paint spray booth approved. Thus, we have a high powered, surface mount explosion proof light for Class 1 Division 1 confined spaces and a Class 1 Division II surface mount light for open air hazardous location areas," Rob concluded.
Larson Electronics offers a wide range of explosion proof lights, including drop lights, cart based lights and surface mount lights with UL ratings for hazardous location areas. With an extensive inventory, most orders ship within 1 to 3 days. You can learn more about Larson Electronics LLC at http://www.magnalight.com or by calling 1-800-369-6671.
# # #