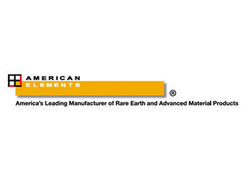 Los Angeles, CA (PRWEB) December 3, 2007
American Elements announced today the development of a novel new process for the large scale production of surface functionalized nanoparticles, such as Dodecanethiol Functionalized Gold Nanoparticles, allowing for their use in a greater number of commercial applications. Surface functionalized nanomaterials have controlled surface chemistries which enhance the adhesion or the dispersion properties of the nanopowder in polymers, plastics and coatings for improved magnetic, fluorescent, dielectric, and catalytic characteristics. Surface Functionalized Nanoparticles have particular application in LEDs, drug delivery systems, sensors and electronics.
For further technical and pricing information on American Elements complete line of Surface Functionalized Nanoparticles, please visit http://www.americanelements.com or contact your local American Elements distributor or American Elements U.S. corporate headquarters at (1)310-208-0551, FAX (1)310-208-0351. American Elements is America's leading manufacturer and supplier of engineered and advanced material products with distribution offices in Europe, Asia and South America.
###