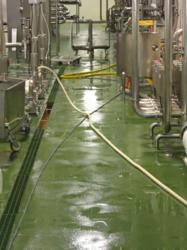 It was one of the most challenging projects I've overseen, I'm very proud of the end result.
Rembrandt, IA (PRWEB) October 17, 2012
Rembrandt Foods, an agribusiness and food company headquartered in Rembrandt, Iowa needed a new flooring surface for a facility producing over 4,000,000 eggs daily. Surface Solutions was called upon to provide a 10,000 square foot flooring solution for a facility with a number of unique challenges.
The existing flooring surface was a failing epoxy 1/8" quartz broadcast system which was over 10 years old. The existing floor covering had to be removed and existing concrete surface dried with torches due to extremely moist conditions throughout the facility. To further complicate matters, the existing covering needed to be removed and new coatings applied at night in order to not delay production in the facility.
Surface Solutions replaced the existing surface with Flowcrete HF urethane concrete which was troweled on at a thickness of 3/8". This antimicrobial flooring system to eliminate bacterial contamination was perfect for this high volume food production facility. Additionally, Flowcrete provides the thermal shock and impact resistance needed for a facility was high traffic and frequent extreme temperature fluctuations.
Surface Solutions was able to provide high quality Flowcrete HF flooring under difficult circumstances on-time and within budget. The Rembrandt Foods project proved that Surface Solutions is up to the task even under extreme conditions.