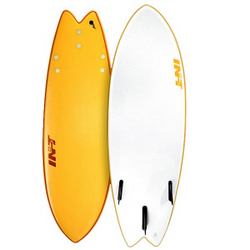 San Diego, CA (PRWEB) April 24, 2008
Buyboardz is happy to announce an exciting new surfboard release, the fish surfboard, a board that has retained popularity since the 1960s. With its unique fish-like shape and very short length, the fish surfboard is making a comeback on surfing beaches everywhere, and Buyboardz now carries two types of specialized fish surfboards to meet the demand.
Buyboardz is an online resource for surfers all across the U.S., providing surfboards, longboards, softboards, fiberglass and epoxy surfboards. Buyboardz is happy to announce that they are now offering two types of fish surfboards manufactured by the award winning board shapers at INT. Buyboardz carries the two most popular types of fish surfboards that surfers are looking for, the fiberglass board and the softer resin board.
The high performance fiberglass fish surfboard with a soft top combines the best of both worlds, utilizing INT's cutting edge soft top technology and the classic retro fish surfboard design. The extra wide width and short length give the fish board its unique characteristics and quickness. The fiberglass bottom gives high performance maneuverability and speed for the expert surfer to zip through those small to medium sized waves. The performance resin or slick-skin bottom fish surfboard with soft top is the perfect blend of classic fish board maneuverability and safety for beginners or kids. The great thing about this softer fish surfboard is that it allows the experienced surfer to throw some big tail slides and then can double as a grommet or kid's board.
With summer coming, there couldn't be a better time for Buyboardz, the leading online source for everything surfing, to carry the surfboards that are making a great comeback. Fish surfboards are classic fun, and with a high performance fiberglass model and a softer, safer fish surfboard model for surfers to choose from, Buyboardz maintains its commitment to surfing excellence for everyone from beginners to experts who want to buy surfboards.
About Buyboardz:
Buyboardz is the leading online source for everything surfing. They offer a wide selection of fiberglass and epoxy surfboards, softboards, longboards, and stand up paddle boards. They also offer the variations of the retro fish surfboard and can personalize boards with custom designs. Whether you're a longboarder or a shortboarder, or you want to branch out and try a new area of surfing such as stand up paddle boarding, Buyboardz is surfboarding central. Buyboardz offers their boards at wholesale pricing and provides a free leash with every surfboard purchase, because they believe everyone should be able to afford a board.
# # #