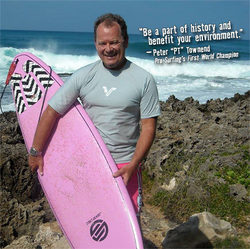 We are so pleased to have Rip Curl and Transworld SURF as partners in this worthy cause
Huntington Beach, CA (Vocus) August 22, 2009
Surf City USA announced today the addition of powerful new sponsors for the inaugural kickoff of the "Surfboards in the Sand" event to honor surfing and to raise awareness and funds for protecting the coastal environment. The new event sponsors include Title Sponsor, Rip Curl, one of the world's largest board wear companies as well as Media Sponsor and official photographer, Transworld SURF, the leader in surf media.
Rip Curl Surfboards in the Sand
The event, now called the Rip Curl Surfboards in the Sand, will take place on September 19th next to the Huntington Beach pier. Planned as an annual event, the Rip Curl "Surfboards in the Sand" will be donating a portion of all proceeds to provide funding to Orange County Coastkeeper and the Surfrider Foundation.
Participants who pre-register online by September 10 will receive a free commemorative Rip Curl t-shirt (valued at $25) and a one-year subscription to Transworld SURF magazine (newsstand value of $59.88).
"We are so pleased to have Rip Curl and Transworld SURF as partners in this worthy cause," said Donna Mulgrew, Vice President and COO of the Huntington Beach Marketing and Visitors Bureau. "Transworld SURF, Rip Curl and Huntington Beach are all icons in surfing, and we are all devoted to protecting the oceans we love."
Participants will join in an "Epic" group photo with pro surfing's first World Champion Peter "PT" Townend and other surfing greats. The Epic Photo will be shot and published by Transworld SURF.
"We will plant our surfboards in the sand for this historic photo as a demonstration of our devotion to the sport and to the waves," said Townend. "If you care about the environment or are a surfer or a fan, be a part of history and benefit your environment. If we don't protect our waves today, we won't have them for our kids and grandkids to enjoy."
In addition to the historic photo opportunity, participants will enjoy free live entertainment plus discounts and special offers from participating Huntington Beach stores and restaurants.
Join the Cause - Pre-Registration Online through September 10
Attendees who want to take advantage of the free special edition Rip Curl t-shirt MUST pre-register online by September 10. Pre-registration for the event is only $10. Registrations received after the 10th will cost $20 and t-shirts may be limited.
Groups of 30 or more can reserve their place in the sand for the epic photo by contacting Jodi Book at 714.658.3427 or Jodi(at)bookthatevent.com.
Those who cannot attend can still support the cause by purchasing the special edition Rip Curl-Surf Boards in the Sand t-shirt online.
Sign up or show your support! Register online at http://www.SurfboardsInTheSand.com
About the Huntington Beach Marketing and Visitors Bureau
The Huntington Beach Marketing and Visitors Bureau (AKA Huntington Beach Conference and Visitors Bureau) is the official destination marketing organization of Huntington Beach, Surf City USA®. One of Southern California's premier coastal destinations, Huntington Beach is the ideal location for a California family vacation or relaxing weekend getaway.
To plan your Surf City USA® vacation, or to learn more about Huntington Beach, visit the Huntington Beach Marketing and Visitors Bureau website at http://www.surfcityusa.com or call 800-729-6232 for a free Visitors Guide.
Contact:
Donna Mulgrew, Vice President & COO
Huntington Beach Marketing and Visitors Bureau
714-969-3492 or donna (at) surfcityusa (dot) com
###