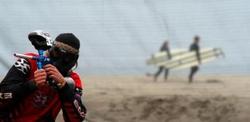 Paintball is a game based on the traditional format of Capture the Flag, except the action is much more fast and furious
Huntington Beach, CA (Vocus) March 19, 2009
The US Paintball League (USPL) kicks off its first event of the 2009 season in Huntington Beach, California event, as 150 teams from around the world (including Malaysia, Canada and Brazil) compete for trophies, prizes and a shot at the overall championship.
Surf City Open
The Surf City Open takes place on Huntington City Beach, just south of the famous Huntington Beach Pier, the first weekend in April. Admission is free, with thousands of spectators expected for the exciting finals on Sunday afternoon. Event organizers estimate this year's crowd at 50,000 people for the daylong finals competitions.
World's Premiere Paintball Event: Professional/Semi-Pro Competition
The Surf City Open gained recognition as the world's premiere paintball event due, in part, to its amazing location. The Pacific Ocean offers a beautiful backdrop to the excitement of professional and semi-pro teams battling for paintball domination in the sun and sand. Steps away from Main Street of bustling Downtown Huntington Beach, the Surf City Open offers great access to all the shops, dining and other activities available in Surf City USA.
"Paintball is a game based on the traditional format of Capture the Flag, except the action is much more fast and furious," says US Paintball League Commissioner and Huntington Beach resident Chuck Hendsch. The exciting 7-man format matches two seven-man teams against each other on a field about the size of a tennis court with a number of inflated shapes that offer some cover to the players. Each game lasts a maximum of 7 minutes, with both teams attempting to capture the opposing team's flag to win the match.
The newly formed US Paintball League rescued this popular six-year-old tournament that brings thousands of players and spectators to Huntington Beach. This player-run organization endeavored to make this year's Surf City Open more player-friendly, with lowered entrance fees and higher prize packages, including $9,000 for the Division One Team Champions. Additionally, participants designed their own playing fields, voting online for their favorite layouts out of three possible choices at http://www.USPaintballLeague.com.
Paintball Shooting Range Open to the Public: Test Paintball Guns
Changes this year to enhance the spectator experience include grandstands on the field and the trade show held on the sand. The Trade Show Expo runs daily from 9 am to 6 pm featuring more than 60 of the sport's best vendors and sponsors. Spectators and players have the chance to see the latest top of the line gear, get great deals direct to the public and talk to the manufactures directly. New this year, is a paintball shooting range, so people can test paintball guns. The USPL has also reconfirmed its commitment to leaving the beach cleaner than when they started.
Events run from 7:30 am to 8 pm on Friday and Saturday, and from 8 am to 5 pm on Sunday.
Divisional Paintball Play happens Friday, Saturday and Sunday on four fields directly on the beach. The top 16 professional teams compete Friday afternoon, with finals for both professional and semi-pro teams on Sunday from 8 am to 5 pm on Center Court.
Several Huntington Beach hotel offer great Paintball hotel rates for participants and spectators during paintball event weekend. Check http://www.surfcityusa.com for updated hotel offers, including:

Hilton Waterfront Beach Resort (714-845-8000): Room rates available April 1-6, 2009 for $199 per night.
Hotel Huntington Beach (714-891-0123): $95 per night. Offer valid for check in on April 3, 2009 and check out on April 5, 2009 only. Be sure to mention group name "Camille Lemanski" to receive the special rate.
Pacific View Inn and Suites (562-592-4959): Single queen room for $69.99 plus tax; minimum two-night stay required. Offer available during April 3-5, 2009 only.
Extended Stay America (714-799-4887): $75/single or $80/double room.
US Paintball League, a player-run organization that governs Paintball tournaments and play, is committed to setting rules, standards and guidelines for safe, competitive, fair Paintball competitions worldwide. For more information call 714 858 1923 or visit http://www.USPaintballLeague.com.
About the Huntington Beach Marketing and Visitors Bureau
The Huntington Beach Marketing and Visitors Bureau is the official destination marketing organization of Huntington Beach, Surf City USA®. One of Southern California's premier coastal destinations, Huntington Beach is the ideal location for a California family vacation or relaxing weekend getaway.
With 8.5 miles of wide-open white sand California beaches, Huntington Beach is a destination of choice for vacationers and business travelers alike. To plan your Surf City USA® vacation, or to learn more about Huntington Beach, visit the Huntington Beach Marketing and Visitors Bureau website at http://www.surfcityusa.com or call 800-729-6232 for a free Visitors Guide.
High-resolution photographs are available upon request.
###