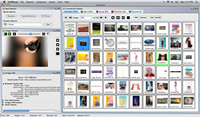 We feel SurfRecon's safety features are some of the most important features the tool has to offer individuals who review pornographic content
Orem, UT (PRWEB) July 9, 2008
SurfRecon Inc. announced today the release of SurfRecon 2008, a new rapid-image-analysis tool that is available to law enforcement, parents, business owners, and schools for the first time. This highly-mobile and easy-to-use tool was originally created to enable members of law enforcement to quickly find, categorize, report-on, and delete pornographic content from almost any computer system, including many devices or media that can be mounted to the computer system.
"We have always felt strongly that parents, employers, and especially members of law enforcement needed a simple tool that would find pornography on a suspect computer. With SurfRecon, they have that tool," said Matthew Yarro, VP of Marketing for SurfRecon, Inc.
SurfRecon is currently being used by police, adult probation and parole officers, and federal agents worldwide. "I was excited to finally have a tool I could use to quickly search computers in the homes of my probationers," said said Cole Christensen, Adult Probation and Parole Officer, Utah State Department of Corrections, "And guess what? The first time I used it, I found pornographic content. Images I wouldn't have found normally."
And now the same technology is available to parents, community leaders, and business owners to help them keep their environments clean and safe.
The SurfRecon "Stick"
The SurfRecon application comes pre-installed on a thumb drive, making it highly mobile and convenient to use. Furthermore, the application is cross-platform compatible, capable of scanning almost any Windows, Macintosh, and Linux computer system--and many devices or media that can be attached to the computer, such as recordable DVDs and CDs, iPods, cell phones, thumb drives, external hard drives, etc.
Different from a filter or firewall, SurfRecon actively searches for pornographic content, leveraging a database containing millions of hash values or digital fingerprints. "With nearly 100 million image hashes in the database and with another 4 million added per week, if a computer contains pornography, SurfRecon will find it," said Andrew Brandt, SurfRecon Director of Business Development.
Each hash value in the database is the equivalent of a digital fingerprint, which uniquely identifies an image. SurfRecon uses "digital fingerprints" to determine the exact nature of any image that it discovers on a computer system. It can then pre-categorize the images, making it easier for individuals to view the contents of a computer system.
Safety Tools
SurfRecon includes a number of safety tools that limit the impact that repeated exposure to dark-and-disturbing forms of pornography can have on an individual. "We feel SurfRecon's safety features are some of the most important features the tool has to offer individuals who review pornographic content," said Mr. Yarro, "They need something to protect their mental health, because some of the harder forms of pornography out on the Internet are so toxic and disturbing, they are going to harm you. It's unavoidable."
The primary safety features included with SurfRecon are the blur and Digital Keyhole tools, which allows a user to blur an image and then use the keyhole tool to limit his or her exposure. Furthermore, these tools, combined with several information panels, allow an individual to determine the nature of an image without even looking at the image.
Who Will Use SurfRecon?
SurfRecon fills a gap in home-and-business Internet safety strategies that filters and firewalls simply cannot. Tech savvy teens can easily bypass or disable a filter or firewall to access Internet pornography.
Rather than passively block access, SurfRecon actively looks for clues that someone has been accessing pornography. "If we can detect it, we can likely categorize it for you. Depending on the speed of you computer, SurfRecon can analyze thousands of images in only a few minutes," said Mr. Yarro.
Parents can use the tool to keep their spouses and children safe. Employers can use the tool to not only check on their employees, but to keep their business environment clear of any pornographic content and free from potential liabilities.
Members of law enforcement can use the tool to perform first-response and consent searches. The tool was primarily built for law enforcement and focuses on mobility, efficiency, accuracy, and integrity.
"Anyone who is dealing with a curious teen, wandering spouse, or convicted sex offender needs this tool. It can keep you, as well as your family and your community, safe," said Mr. Yarro.
Pricing:
SurfRecon is available in three editions: Home Edition, Business Edition, and Elite Edition. MSRP for the Home Edition (1 year subscription with thumb drive) is $99.95; MSRP for the Business Edition (1 year subscription with thumb drive) is $499.95; and MSRP for the Elite Edition for law enforcement only (1 year subscription with thumb drive) is $499.95.
SurfRecon products can be purchased from http://www.surfrecon.com as well as other online and offline retailers.
###