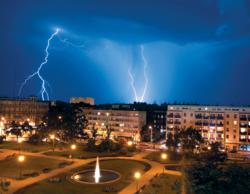 As semiconductor technologies continue to increase in sophistication, silicon based surge suppression will prevail.
(PRWEB) February 01, 2012
Transtector Systems, part of Smiths Interconnect's Protection Technology Group, today announces its celebration of 45 years in business.
Since its inception in 1967, Transtector Systems has steadily grown into an international manufacturer of superior surge protective devices for sensitive semiconductor technology providing low voltage equipment with immunity from failure due to power fluctuations and over voltage. Transtector built its success on the advanced suppression characteristics of silicon. In 1998, global technology enterprise Smiths Interconnect acquired the company as part of its growth strategy of becoming a world leader in the practical application of advanced technologies.
Richard Odenberg, founder of Transtector Systems recalls, "When transistor technology took over the tube market, it became apparent that conventional surge suppressors could not sufficiently protect the modern, low voltage equipment anymore. Silicon avalanche suppression diodes had just entered the market and were able to provide the required low protection levels." Looking into the future, Richard Odenberg believes, "As semiconductor technologies continue to increase in sophistication and shrink in size, silicon based surge suppression will prevail. Integrated circuitries necessitate better protection and silicon can provide it."
To this day Richard Odenberg continues to educate and help advance national and global standards. He is a member and chairman of several IEEE, IEC and ANSI committees as well as author and lecturer of university accredited courses.
About the Protection Technology Group
The Protection Technology Group, part of Smiths Interconnect, includes five brands; PolyPhaser, Transtector Systems, DOWIN, LEA International and RO Associates. As industry leaders in surge protection, the Protection Technology Group provides expertise in consulting, design and manufacturing of RF, AC, DC, data and signal surge protection, communications power cabinets, EMP protection and power quality engineering services. Working across the organization the group provides valuable end-to-end power and signal integrity solutions for markets that include telecommunications, medical imaging, transportation, energy, security and the military.
About Smiths Interconnect
Smiths Interconnect http://www.smithsinterconnect.com is a leader in technically differentiated electronic and radio frequency products that connect, protect and control critical systems for the wireless telecommunications, aerospace, defense, space, medical, rail, test and industrial markets. It is part of Smiths Group http://www.smiths.com, a world leader in applying advanced technologies for markets in threat and contraband detection, energy, medical devices, communications and engineered components. Smiths Group employs around 23,000 people in more than 50 countries.
###