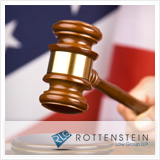 The challenge is for those professionals to not succumb to involvement in a technological 'arms race.'
New York, NY (PRWEB) April 10, 2013
The da Vinci surgical robot's increase in popularity among surgeons at hospitals across the United States has attracted renewed attention to the device from the Food and Drug Administration,* notes the Rottenstein Law Group, which maintains an informational website on da Vinci robot lawsuits that provides news updates and information on side effects.
According to a recent USA Today article, the da Vinci surgical robot was used in about 400,000 surgeries in 2012. This is a three-fold increase over 2008. With the increased use, however, the FDA has received an increasing number of adverse reports, including reports of at least five deaths, the article said. Intuitive Surgical, manufacturer of the da Vinci, maintains that the da Vinci Surgical System is not problematic.
"The attraction toward technology is a reality in most industries, and the medical profession is no exception," said Rochelle Rottenstein, principal of the Rottenstein Law Group. "The challenge is for those professionals to not succumb to involvement in a technological 'arms race.' For those who believe they were injured by the da Vinci robot, this technology is nothing with which to be impressed. Luckily, there are advocates available to help them."
The Rottenstein Law Group, which represents clients who believe they have been harmed by the da Vinci robotic surgical system, encourages people to visit the firm's website to download a free brochure to help them determine if they have a case.
*usatoday.com/story/news/nation/2013/04/09/robot-surgery-fda/2067629/
About THE ROTTENSTEIN LAW GROUP
The Rottenstein Law Group is a New York-based firm that represents clients nationwide in mass tort actions. The firm was founded by Rochelle Rottenstein, who has more than two decades of experience as a lawyer, to represent clients hurt by defective medical devices. (Attorney advertising. Prior results do not guarantee a similar outcome.)
Contact:
The Rottenstein Law Group, LLP
Rochelle Rottenstein, Esq.
321 W. 44th Street
# 804
New York NY 10036
(212) 933-9500 (office phone)
(212) 933-9980 (facsimile)
rochelle (at) rotlaw (dot) com
http://www.rotlaw.com
http://www.rotlaw.com/da-vinci-surgical-system/
###