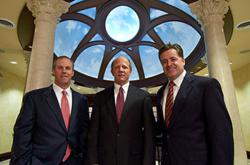 St. Louis, MO (PRWEB) May 20, 2013
The Onder Law Firm's da Vinci robot attorneys* are expanding their da Vinci Robot Surgery Injury Lawsuit website to contain new information explaining why complications arising from a surgery utilizing the da Vinci Surgical System may not be medical malpractice, as many patients believe. The attorneys handling da Vinci surgical complications claims have spoken with numerous patients, most of which had either a hysterectomy or prostate surgery, who believed their surgical complications to be medical malpractice.
Although some of the lawsuits thus far filed because of da Vinci surgical complications have found fault with the surgeon controlling the da Vinci surgical robot (Superior Court of Washington, No. 09-2-03136-5), it has been against Intuitive Surgical, Inc., the maker of the da Vinci Surgical System, for failing to adequately train surgeons using the robot. CNBC's recent investigation into Intuitive Surgical, Inc and the da Vinci Surgical System entitled, The Da Vinci Debate (cnbc.com/id/100653176, 4/18/2013) published an Urgent Medical Device Notification issued by the company to hospitals and surgical centers with the da Vinci robot, stating that a flaw in one of the instruments may allow electrosurgical energy to leak to tissue and potentially cause injury (cnbc.com/id/100726886, 5/10/2013).
The complaints those who have contacted The Onder Law Firm for a da Vinci surgery attorney consultation have spoken of include greatly prolonged surgery times, sometimes requiring more advanced surgical teams to complete the surgery or repair tissue or organ damage using traditional open surgery methods. In other cases, the complications did not appear until days after the surgery and medical imaging detected scarring or other problems requiring a second, or more, surgery to correct the problem.
Approximately 450,000 robotic surgeries took place in 2012, which is approximately one-third of the total number of robot-assisted surgeries perfected over the last twelve years. CNBC's investigation into Intuitive Surgical, Inc.'s business practices revealed a company using very aggressive marketing tactics, including marketing robot-assisted surgery directly to consumers by displaying the da Vinci surgery robot in malls and museums and pressuring hospitals to purchase the machine in order to not fall behind in offering the latest medical technology. Da Vinci sales reps speaking under a condition of anonymity told CNBC reporters they were also under pressure to convince surgeons to convert previously scheduled laparoscopic surgeries to da Vinci robot-assisted surgeries and given quotas for the number of da Vinci surgeries being performed. Intuitive Surgical, Inc. is the leader in a multi-billion industry.
The Onder Law Firm is currently investigating claims of complications, injury and death by patients after they or family member underwent a robot-assisted surgery using the da Vinci Surgical System. Those affected may receive a no-cost, no-obligation consultation with an actual attorney by visiting the firm's Da Vinci Robot Surgery Injury Lawsuit website. The Onder Law Firm welcomes da Vinci surgery lawsuit inquiries from law firms in regards to handling them or working as co-counsel.
About The Onder Law Firm
Onder, Shelton, O'Leary & Peterson, LLC is a St. Louis based personal injury law firm handling serious injury and death claims across the country. Its mission is the pursuit of justice, no matter how complex the case or strenuous the effort. Onder, Shelton, O'Leary & Peterson have represented clients throughout the United States, and other firms throughout the nation often seek its experience and expertise on complex litigation. It is a recognized leader in products liability cases such as window blind cord strangulation and pharmaceutical litigation. The Onder Law Firm offers information pertaining to da Vinci Surgical System injury at http://www.davincirobotsurgeryinjurylawsuit.com.
da Vinci is a registered trademark of Intuitive Surgical, Inc. The Onder Law Firm is not affiliated with Intuitive Surgical, Inc. in any way.