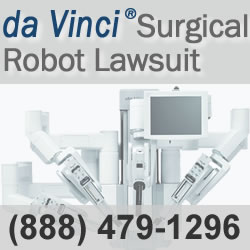 The FDA has received up to 500 reports of da Vinci® robot problems since Jan. 1, 2012, including reports of five deaths.
(PRWEB) June 27, 2013
The nationally respected personal injury litigation firm Flood Law Group, LLP announces the launch of DaVinciSurgicalRobot.org, an online resource designed to help individuals understand the risks and complications associated with the da Vinci® surgical robot.
According to the product liability lawyers at Flood Law Group, a number of individuals claim to have suffered serious injury or even wrongful death resulting from surgery where the da Vinci® robot was employed. These individuals may be eligible to pursue compensation for their damages in personal injury lawsuits.
The da Vinci® surgical robot system is a complex robotic medical device consisting of four specialized arms which surgeons operate via hand and foot controls to conduct minimally invasive surgery.
On a website created to promote the da Vinci® system, device manufacturer Intuitive Surgical claims that the surgical robot is "a breakthrough in surgical capabilities that is changing the experience of surgery," going on to state "surgeons and patients around the world have found da Vinci surgery to be safe and effective minimally invasive treatment option for a range of complex conditions."*
Though the da Vinci® surgical robot has been heavily promoted as a safer alternative to traditional "open" surgical procedures in the years since the device was released, the FDA has reportedly received a high number of adverse event reports linked to the system. According to CNBC, the FDA has received reports of at least 245 injuries and 85 deaths related to the da Vinci surgical system since 2000.**
Injuries allegedly attributed to the da Vinci® robot include:

Lacerations
Perforated organs
Burns
Infections
Incontinence
Fistulas
Hematomas
Brain damage
Death
By sponsoring DaVinciSurgicalRobot.org, the attorneys at Flood Law Group hope to help spread awareness about the risks and complications that may be linked to the da Vinci® surgical robot.
For more information on injured patients' rights in da Vinci® robot lawsuits, contact Flood Law Group at 1-888-479-1296 to schedule a consultation with an experienced personal injury lawyer.
*http://www.intuitivesurgical.com/specialties/
**http://www.cnbc.com/id/100653176