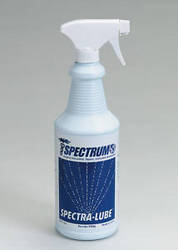 Stow, OH (PRWEB) July 31, 2010
Spectrum Surgical Instruments Corp. introduces Spectra-Lube®, an easy-to-use, 32-ounce spray-on lubricant designed to protect and lubricate surgical instruments.
Spectra-Lube® eliminates the need for costly and messy instrument "baths" by allowing the user to put lubrication where it's needed. Spectra-Lube® is fully-autoclavable and safe to use on your surgical instruments.
Its neutral pH and rust inhibitor prolongs the life of your surgical instruments and reduces any damage and replacement costs from rust or corrosion. Spectrum Surgical also offers Spectra-Lube® in an 8-piece Ultrasonic Cleaning Kit; Spectra-Moist® Surgical Instrument Protection Spray (32 oz.); Spectra-Sonic® Ultrasonic Cleaning Solution (1 Gallon); Spectra-Soap® for Surgical Instruments (1 Gallon) and more.
About Spectrum Surgical
Spectrum Surgical Instruments has been providing a full line of surgical instruments for Human and Animal health since 1982. Spectrum is a leading provider of surgical instrument repair, sharpening and restoration. Spectrum Surgical provides surgical equipment to surgery centers and veterinary centers across the United States.
We have taken a leading role in the industry by providing free educational services about surgical instrument care. The goal is to educate those who come in contact with surgical instruments to ensure that all are aware of the impact they have on patient safety. Our commitment to quality has led us to increase our quality systems and improvement initiatives. We work directly with customers and industry leaders to offer technology, preventative maintenance, and quality products designed to improve patient safety.
Visit the Spectrum Surgical Instruments blog:
http://www.spectrumsurgical.com/surgical-instruments-blog
Follow Spectrum on Facebook:
http://www.facebook.com/SpectrumSurgical
For more information, please contact Derek Lashua, Marketing Director, at 800-444-5644.
###