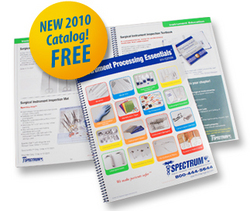 Stow, OH (PRWEB) September 17, 2010
Spectrum Surgical Instruments Corp. is proud to announce that its new, Processing Essentials Catalog 9th Edition is now available.
The full-color, 76-page catalog features many new products for surgery and central sterile supply — from surgical instrument cleaning brushes, instrument education, inspection and sharpness testing aides — to instrument trays, accessories, and protection devices.
To request your free copy, please go to the website:
http://www.spectrumsurgical.com/contact/brush-catalog-request-sept-2010.php
For over 26 years, Spectrum Surgical Instruments has been a leader in the industry, providing a full range of surgical instrument repair and restoration services, German-made surgical instruments, surgical instrument cleaning brushes, instrument accessories and educational programs.
Choose from many of the new brush designs that are available. Or, take advantage of expanded repair capabilities, which include flexible and rigid scope repair, general instrument sharpening and repair, laparoscopic sharpening and repair, and power equipment repair. Spectrum Surgical Instruments' expanded repair services also consist of on-location repair services for any model or brand.
Spectrum Surgical Instruments is dedicated to providing instrument education to OR and CS personnel around the country. Additionally, the company is a national GPO contract holder.
About Spectrum Surgical Instruments
Spectrum Surgical Instruments has been providing a full line of surgical instruments for Human and Animal health since 1982. Spectrum is a leading provider of surgical instrument repair, sharpening and restoration. Spectrum Surgical provides surgical equipment to surgery centers and veterinary centers across the United States.
We have taken a leading role in the industry by providing free educational services about surgical instrument care. The goal is to educate those who come in contact with surgical instruments to ensure that all are aware of the impact they have on patient safety. Our commitment to quality has led us to increase our quality systems and improvement initiatives. We work directly with customers and industry leaders to offer technology, preventative maintenance, and quality products designed to improve patient safety.
Visit the Spectrum Surgical Instruments blog:
http://www.spectrumsurgical.com/surgical-instruments-blog
Follow Spectrum on Facebook:
http://www.facebook.com/SpectrumSurgical
For more information, please contact Derek Lashua, Marketing Director, at 800-444-5644.
###