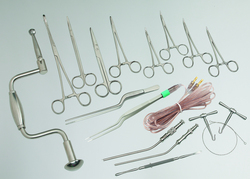 Stow, OH (PRWEB) November 26, 2010
Spectrum Surgical Instruments Corp. is pleased to offer a CJD Instrument Set. In response to the growing need for an affordable and disposable CJD (Creutzfeldt-Jacobs Disease) identification set, Spectrum developed an surgical instrument set comprised of Pakistan-made instruments. Instruments include a Hudson Brace, a McKenzie Bur, Gigli wire saw and handles, BiPolar bayonet forceps and cable, standard bayonet forceps, a Foerster Sponge forcep, Metzenbaum and Mayo scissors, a Mayo-Hegar needle holder, two sizes of Frazier suction tubes, a Freer periosteal elevator, and four Halsted-Mosquito forceps.
For more information, please contact Derek Lashua, Marketing Director, at 800-444-5644.
About Spectrum Surgical Instruments:
Spectrum Surgical Instruments has been providing a full line of surgical instruments for Human and Animal health since 1982. Spectrum is a leading provider of surgical instrument repair, sharpening and restoration. Spectrum Surgical provides surgical equipment to surgery centers and veterinary centers across the United States.
We have taken a leading role in the industry by providing free educational services about surgical instrument care. The goal is to educate those who come in contact with surgical instruments to ensure that all are aware of the impact they have on patient safety. Our commitment to quality has led us to increase our quality systems and improvement initiatives. We work directly with customers and industry leaders to offer technology, preventative maintenance, and quality products designed to improve patient safety.
Visit the Spectrum Surgical Instruments blog:
http://www.spectrumsurgical.com/surgical-instruments-blog/
Follow Spectrum on Facebook:
http://www.facebook.com/SpectrumSurgical
###