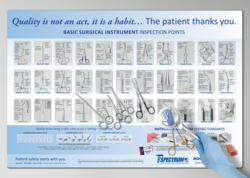 Stow, Ohio (PRWEB) August 09, 2011
Spectrum Surgical Instruments Corp. is pleased to introduce their new, larger, Surgical Instrument Inspection Mat, Spectra-Mat™ (patent pending). Each work-surface mat is now 3 times larger and features over 33 full-color instrument photos with proper names and inspection points of the most common surgical instruments. The inspection mat measures 24" x 36" (200% larger) and is insulated with a no-slip rubber backing to reduce noise and surface impact of instruments.
Each inspection mat also features a "french" cleaning brush measuring scale, scissor angle chart, Kerrison punch bite-styles guide, instrument sharpness testing standards and a ruler for measuring and confirming instrument size during inspection. Also included is an instrument magnifying glass with a large 55mm lens and 2.5x magnification for thorough instrument inspection. Each magnifier features a durable aluminum body, and a bright, 2-stage selectable LED light.
For more surgical instrument information, please contact a Spectrum Customer Care Representative at 800-444-5644.
About Spectrum Surgical Instruments
Spectrum Surgical Instruments has been providing a full line of surgical instruments for Human and Animal health since 1983. Spectrum is a leading provider of surgical instrument repair, sharpening and restoration. Spectrum Surgical provides surgical equipment to surgery centers and veterinary centers across the United States.
We have taken a leading role in the industry by providing free educational services about surgical instrument care. The goal is to educate those who come in contact with surgical instruments to ensure that all are aware of the impact they have on patient safety. Our commitment to quality has led us to increase our quality systems and improvement initiatives. We work directly with customers and industry leaders to offer technology, preventative maintenance, and quality products designed to improve patient safety.
Visit the Spectrum Surgical Instruments blog: http://www.spectrumsurgical.com/surgical-instruments-blog
Follow Spectrum on Facebook: http://www.facebook.com/SpectrumSurgical
###