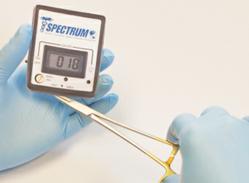 Stow, Ohio (PRWEB) September 29, 2011
Spectrum Surgical Instruments Corp. is pleased to offer the Spectra-Meter™ surgical instrument magnetism detector. As instruments become magnetized, the Spectra-Meter™ quickly and effectively detects magnetism levels in instruments before problems arise in the operating room. The design features an easy-to-read digital readout screen, on/off switch, light (for readout window), simple calibration dial, and a pocket clip.
Spectrum's magnetism detection device is powered by a single 9-volt battery. Use the Spectra-Meter™ to check for magnetism and help establish surgical instrument quality control standards and guidelines for your department.
For more surgical instrument information, please contact a Spectrum Customer Care Representative at 800-444-5644 or visit the web site: http://www.spectrumsurgical.com.
About Spectrum Surgical Instruments
Spectrum Surgical Instruments has been providing a full line of surgical instruments for Human and Animal health since 1983. Spectrum is a leading provider of surgical instrument repair, sharpening and restoration. Spectrum Surgical provides surgical equipment to surgery centers and veterinary centers across the United States.
We have taken a leading role in the industry by providing free educational services about surgical instrument care. The goal is to educate those who come in contact with surgical instruments to ensure that all are aware of the impact they have on patient safety. Our commitment to quality has led us to increase our quality systems and improvement initiatives. We work directly with customers and industry leaders to offer technology, preventative maintenance, and quality products designed to improve patient safety.
Visit the Spectrum Surgical Instruments blog:
http://www.spectrumsurgical.com/surgical-instruments-blog
Follow Spectrum on Facebook:
http://www.facebook.com/SpectrumSurgical
###