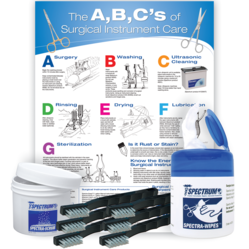 Stow, OH (PRWEB) September 27, 2012
Spectrum Surgical Instruments Corp. is pleased to introduce its Surgical Instrument Stain Remover Kit. The newest addition to Spectrum's complete line of surgical instrument care products, the kit is the perfect solution for removing stubborn stains from surgical instruments such as needle holders, scissors, retractors, hemostats, and forceps. Easy-to-use and safe for use on all stainless steel, the kit includes Spectra-Wipes™ Surgical Instrument Stain Remover towelettes, Spectra-Scrub™ powdered stain remover for more aggressive stains, and six (6) nylon-bristle instrument cleaning brushes. The kit also includes Spectrum's educational wall poster, The ABC's of Surgical Instrument Care.
For more surgical instrument information, please contact a Spectrum Customer Care Representative at 800-444-5644 or visit the company's website at http://www.spectrumveterinaryinstruments.com.
About Spectrum Veterinary Instruments
Spectrum Surgical is always listening to its customers and incorporating their ideas for the future. Spectrum Veterinary Instruments has been providing a full line of veterinary surgical instruments since 1983. Spectrum is a leading provider of surgical instrument repair, sharpening and restoration. Spectrum Surgical provides surgical equipment to veterinary centers across the United States.
We have taken a leading role in the industry by providing free educational services about surgical instrument care. The goal is to educate those who come in contact with surgical instruments. Our commitment to quality has led us to increase our quality systems and improvement initiatives.