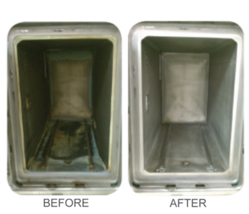 Stow, Ohio (PRWEB) February 04, 2013
Experience the Power of Clean with Sterilizer Chamber Cleaning Service from Spectrum Surgical Instruments / STERIS Specialty Services. AORN recommends regular chamber cleaning in its equipment maintenance supplement to ensure your sterilizer continues to perform to your expectations. Over time, substances accumulate on chamber walls and can contaminate packs and hinder sterilizer performance. STERIS's patented Chamber Cleaning System removes substances from chamber walls, without damaging the surface of your sterilizer.
Eliminate chamber residue and see the results of reduced contaminated and rejected packs, improved drying and heat transfer, easier routine operator cleaning and improved sterilizer chamber aesthetics. Spectrum Surgical is a national GPO contracted vendor.
For more surgical instrument sterilization information, please contact a Spectrum Customer Care Representative at 800-444-5644.
About Spectrum Surgical Instruments
Spectrum Surgical Instruments has been providing a full line of surgical instruments for Human and Animal health since 1983. Spectrum is a leading provider of surgical instrument repair, sharpening and restoration. Spectrum Surgical provides surgical equipment to surgery centers and veterinary centers across the United States.
We have taken a leading role in the industry by providing free educational services about surgical instrument care. The goal is to educate those who come in contact with surgical instruments to ensure that all are aware of the impact they have on patient safety. Our commitment to quality has led us to increase our quality systems and improvement initiatives. We work directly with customers and industry leaders to offer technology, preventative maintenance, and quality products designed to improve patient safety.