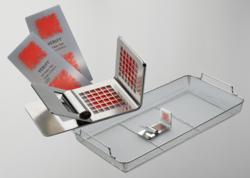 Stow, OH (PRWEB) June 26, 2013
Surgical instrumentation cannot be properly sterilized without being properly cleaned. Until now, the only way to routinely verify the performance of your automated washer was by visually inspecting the instrumentation after a completed cycle. Professional standards organizations have recognized the importance of monitoring your mechanical and chemical cleaning process. Now you have an effective way of monitoring your automated washer and instrument cleaning chemistry functionality.
The VERIFY™ All Clean Test Washer Holder and Indicator have been carefully designed to mimic these difficult-to-clean surfaces of surgical instruments. The mesh design of the holder represents a typical challenge that relies on the same mechanical and chemical activity. The VERIFY™ All Clean Test Washer Indicator includes two sources of protein, lipids and polysaccharides to mimic common challenging test soils. Once placed into a wire basket it will provide reproducible testing with ease and certainty. In the event you have a failure, the failure pattern on the washer indicator can assist in diagnosing the root cause of the washer's failure. The VERIFY™ All Clean Test Washer Indicator contains no blood products, is safe to handle and safe to place in your washer/disinfector without toxic residuals on instruments.
For more information about the VERIFY™ All Clean Test Washer Indicator, please contact a Spectrum Customer Care Representative at 800-444-5644.
About Spectrum Surgical Instruments
Spectrum Surgical Instruments has been providing a full line of surgical instruments for Human and Animal health since 1983. Spectrum is a leading provider of surgical instrument repair, sharpening and restoration. Spectrum Surgical provides surgical equipment to surgery centers and veterinary centers across the United States.
We have taken a leading role in the industry by providing free educational services about surgical instrument care. The goal is to educate those who come in contact with surgical instruments to ensure that all are aware of the impact they have on patient safety. Our commitment to quality has led us to increase our quality systems and improvement initiatives. We work directly with customers and industry leaders to offer technology, preventative maintenance, and quality products designed to improve patient safety.