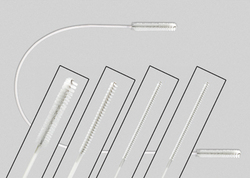 Stow, OH (PRWEB) May 29, 2010
Spectrum Surgical Instruments Corp. is pleased to introduce its new Cleanables™ surgical instrument cleaning brushes. Spectrum's new Cleanables™ medical cleaning brushes offer single or double-ended brush tips with 50% more cleaning power than the competition.
Spectrum's Cleanables™ medical cleaning brushes are 25-inches in length and feature non-contaminating, kink-free shafts. The brushes are available with brush-tip diameters of 3mm, 5mm, 8mm and 10mm. Designed to protect hospital staff and clean surgical instruments, Spectrum's brushes are produced with antimicrobial bristles.
About Spectrum Surgical Instruments
Spectrum Surgical has been providing a full line of surgical instruments for Human and Animal health since 1982. Spectrum is a leading provider of surgical instrument repair, sharpening and restoration. Spectrum Surgical provides surgical equipment to surgery centers and veterinary centers across the United States.
For more information, call:
Derek Lashua, Marketing Director, at 800-444-5644.
###