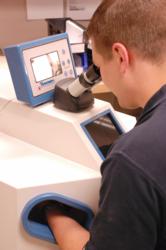 Stow, Ohio (PRWEB) December 29, 2011
Spectrum Surgical Instruments Corp. is pleased to offer Laser Welding, further expanding the breadth of its surgical instrument repair capabilities.
Through the use of precision, laser welding technology, Spectrum's certified technicians are able to repair surgical instruments and components — restoring them to a useful state and thereby saving facilities the cost of replacement.
By employing a precisely focused beam, energy can be transmitted to laser weld and repair a broad range of instruments, including very small, precise, custom, or hard to reach areas of instruments that might otherwise be deemed non-repairable.
Rather than replace delicate instruments, save money by repairing and extending their life. Open 7 days per week, 365 days per year, Spectrum provides fast turnaround and emergency service. For more information, please contact a Spectrum Customer Care Representative at 800-444-5644.
About Spectrum Surgical Instruments
Spectrum Surgical Instruments has provided a full line of surgical instruments and other care products, accessories and more since 1983. The company is a leading provider of surgical instrument repair services.
A wide range of services include instrument sharpening and restoration and more advanced repairs, including both flexible and rigid scopes. The company serves hospitals, surgery centers and veterinary centers throughout the United States. Widely regarded warranties and a commitment to customer satisfaction and retention helped Spectrum Surgical grow significantly over the past 28 years. Spectrum Surgical is the industry leader for medical products, such as needle holders, surgical scissors, bipolar forceps and more.
The company's eight regional repair offices are in Chicago, IL, Indianapolis, IN, Cincinnati, OH, Toledo, OH, Knoxville, TN, Charleston, WV, Buffalo, NY, and Pittsburgh, PA.
###