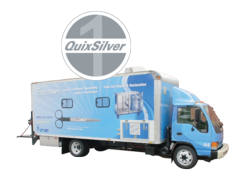 Stow, Ohio (PRWEB) February 01, 2013
Spectrum Surgical Instruments Corp. is pleased to provide QuixSilver™ On-Location Case Cart & Stainless Steel Equipment Repair services. QuixSilver™ immediately reduces capital expenditures and minimizes liability associated with dysfunctional equipment still in operation. The QuixSilver™ program provides on-location repair and maintenance services for all stainless steel equipment (containing a latch, hinge or wheel) that typical in-house services do not repair. QuixSilver™ will help reduce capital budgets, minimize injuries, prepare for JCAHO equipment inspections and compliance and extend equipment life. The company utilizes only stainless steel replacement parts and can repair Case Carts and Code Carts, Back Tables, IV Poles, Stools, Stretchers, Mayo Stands, Transport Carts, Metro-style Shelving, Side and Prep Tables, Sterilizer Racks and more. Spectrum is a national GPO contracted vendor and offers the lowest cost repair pricing in the industry. Open seven days-per-week, 365 days-per-year, Spectrum provides fast turnaround and emergency service.
For more surgical instrument repair information, please contact a Spectrum Customer Care Representative at 800-444-5644.
About Spectrum Surgical Instruments
Spectrum Surgical Instruments has been providing a full line of surgical instruments for Human and Animal health since 1983. Spectrum is a leading provider of surgical instrument repair, sharpening and restoration. Spectrum Surgical provides surgical equipment to surgery centers and veterinary centers across the United States.
We have taken a leading role in the industry by providing free educational services about surgical instrument care. The goal is to educate those who come in contact with surgical instruments to ensure that all are aware of the impact they have on patient safety. Our commitment to quality has led us to increase our quality systems and improvement initiatives. We work directly with customers and industry leaders to offer technology, preventative maintenance, and quality products designed to improve patient safety.