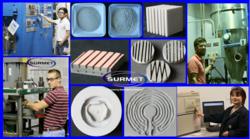 Surmet is now one of only a handful of companies worldwide that has the capacity to synthesize high quality AlN powder in tonnage quantities. Multiple grades including surface modified powders for epoxy filler applications are also available.
Burlington, MA (PRWEB) September 21, 2011
High Brightness LED outdoor lighting products require efficient heat removal to assure peak performance and long life. While alumina is sufficient for low power levels, higher power levels will necessitate the use of AlN because of its unusual and desirable combination of high dielectric strength and high thermal conductivity.
AlN is 8 to 10 times more thermally conductive than alumina, and its conductivity will not deteriorate with rising temperatures. With a relatively low thermal expansion coefficient, AlN structures meet thermo-mechanical requirements for many electronic and device components.
With over 75,000 square feet of manufacturing and R&D space, Surmet's Buffalo facility has been a leading supplier of high purity Aluminum Nitride to international customers for over 20 years. Surmet is now one of only a handful of companies worldwide that has the capacity to synthesize high quality AlN powder in tonnage quantities. Furthermore, Surmet is the only supplier in the US with the ability to synthesize, process and treat the AlN powder to the required surface area and particle size characteristics. Multiple grades of surface modified powders, suitable for use as fillers in adhesives are also available.
Copper metalized Aluminum Nitride tapes, net-shaped complex 3-D device structures and composites are being developed by Surmet, to meet the growing demand for thermal management. Advanced products such as AlN micro-channel reactors and AlN substrates with novel embedded metallic structures are also under development at Surmet.
In addition to thermal management applications, Aluminum Nitride is the material of choice worldwide, for a variety of high performance Green Tech applications. AlN is being used in Traction (Trains, Subway Systems), Power Generation (Wind Energy, Hydroelectric, Power Conditioning) and also in Hybrid Electric vehicles where power is generated by conventional motors, and power lost during braking is partially recovered.
Founded in 1982, Surmet Corporation is a specialty manufacturing company. Best known for its lightweight ALON®, the leading light weight Transparent Armor candidate, Surmet is vertically integrated from powder synthesis through fabrication of the final precision components. In addition to ALON® and Aluminum Nitride, Surmet also specializes in the manufacture of Magnesia Spinel and Titanium Diboride based products. Surmet is head quartered in Burlington, MA, and has facilities in Buffalo, NY and Murrieta, CA.
Surmet's talented, responsive and innovative technical and customer relations staff are ready to work with you to meet the exacting needs and specifications for your next generation advanced product designs.
Please go to our website http://www.surmet.com to learn even more about us, and find out...what Surmet can do for you.
###