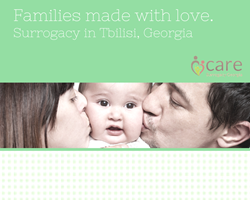 Our exclusive programs in Tbilisi play an influential role in advancing fertility care by improving pregnancy outcomes and providing dramatically affordable family-building options to intended parents.
New York, NY (PRWEB) February 10, 2015
The CARE Surrogacy in Tbilisi, Georgia is celebrating the success of their affordable, innovative IVF Program for intended parents. CARE Surrogacy Georgia has established its position as a first-rate destination with its affordable in-vitro fertilization (IVF) and donor programs — posturing high pregnancy rates and embracing legal support.
Amy Saracoglu, the company's exceedingly serving journey coordinator, recently stated, "Our exclusive IVF program in Tbilisi play an influential role in advancing fertility care by improving pregnancy outcomes and providing dramatically affordable family-building options to intended parents. CARE Georgia has witnessed an increase in popularity, and leveraging that expanding interest with affordable costs has been key to our success."
The surrogacy programs at CARE Surrogacy Georgia were designed to give future parents confidence — and security on their journey to parenthood. Through fertility expertise and extensive medical experience, the company has made a positive contribution to the field of reproductive medicine.
Celebrating Surrogacy Success in Georgia —
Inside the CARE Georgia fertility clinic, experts in the field of reproductive medicine are celebrating their recent success. Behind compassion and commitment to each intended parent that seeks surrogacy options in Tbilisi, the CARE Georgia team has seen an increase in patients due to the impressive indulgences, devoted engagement and an exclusive IVF program.
The company offers a short-term stay surrogacy option designed to make the journey a gratifying and suitable experience. Intended parents have the sustainable option of only staying in the Republic of Georgia on two occurrences — one visit for the egg and sperm donation and the second visit for the birth of the baby.
Beyond the suitable travel conveniences, the egg donation program at CARE Georgia continues to be one of the most highly regarded programs in Europe and Asia. The vibrant egg donors are women aged 18 to 32 of diverse ethnic backgrounds and astounding educational accomplishments — including university degrees and distinctive talents.
Fertility Research and Expertise —
CARE Georgia clinical directors, Dr. Gia Tsagareishvili and Dr. Natalia khonelidze, combine renowned talent with high-tech fertility innovations — and are notably helping couples from Turkey, Egypt, the UK, Netherlands, and Sweden, among others.
Commenting on working with a motivating team of fertility experts, Saracoglu stated, "Our surrogacy program continues to attract hopeful intended parents. I am proud to work with a team that continually brings awe-inspiring success to the CARE Georgia program. The vision and determination of the fertility team is inspiring and a real example to everyone in the industry."
Moving ahead in 2015, the company has announced its commitment to on-going fertility research and the development of comprehensive initiatives to encourage intended parents on their family-building journey. The fertility doctors at CARE Georgia have been meticulous in their research, planning and establishment of what is a fitting inspiration to the CARE brand.
About CARE Surrogacy Georgia
CARE Surrogacy Georgia beholds a tradition of excellence in reproductive health and entertains the highest level of quality patient care. CARE Surrogacy in Georgia is represented by a diverse and talented team that is balancing superlative IVF technologies with extraordinary family building values. The CARE Georgia fertility center provides a comprehensive range of state-of-the-art services for family building options in a caring environment, where the major emphasis is not only technological superiority — but accessibility, affordability, personal attention, and support.