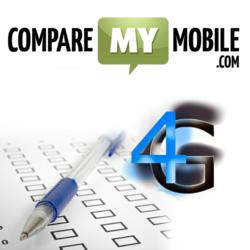 An astonishing 52% of Apple consumers were not aware that 4G was only supported by Everything Everywhere
(PRWEB UK) 21 September 2012
New research from CompareMyMobile exposes a lack of 4G knowledge costing UK consumers
4G, also known as Long Term Evolution (LTE), is the fourth generation of mobile technology. 4G will bring faster mobile internet connections, change the way you use your mobile in everyday life and to date has been implemented in over 40 countries.
The 4G connection for the iPhone 5 is exclusive to Everything Everywhere (Merger of T-Mobile and Orange).
After a huge 367% raise of phone recycling trade ins on Compare My Mobile and reports of iPhone 5 sales predictions of 23 Million worldwide (Wall Street estimates), CompareMyMobile recently launched a new research survey in the UK to identify the consumer awareness regarding the network support of 4G technologies.
CompareMyMobile research shows that 85% of the 4G's target audience hold faster mobile internet connections in high regard.
With 4G becoming established in many other markets worldwide, alarming survey data showed 74.33% of UK smartphone users were not aware 4G was only supported by Everything Everywhere (T-Mobile and Orange) on the iPhone 5.
Taking into consideration the volume of iPhone 5 pre-orders going through the UK right now after the release, an astonishing 52% of Apple consumers were not aware that 4G was only supported by Everything Everywhere (T-Mobile and Orange).
Andrew Beckett, Co-founder and Commercial Director of Compare My Mobile says: "Whilst we can understand consumer demand for the latest iPhone, awareness of 4G and it's compatibility with certain mobile networks is concerning. There could be many disappointed customers in the months ahead when the full capability of their new device cannot be achieved. UK Mobile Networks need to be clear when advertising the new iPhone and when their network will support 4G for that device"
These figures from Compare My Mobile show in a vast amount of consumers will be signing up with 24 month contracts with the total contract and handset costs ranging between 870GBP to 1,600GBP expecting this technology to be available.
Compare My Mobile has been monitoring this since Sept 1st 2012 and seen volumes of digital and network forum discussions, blog comments and Q&A sites growing in the UK daily.
What will happen with 4G on Vodafone and O2?
O2 traditionally had the exclusive iPhone deal when the first model was released. Their concerns regarding loosing their proportion of iPhone customers are apparent in their customer retention statements to the BBC:
"O2 promise to offer customers 4G at a reduced price providing they stay with the network until May 2013" (the date when exclusivity is potentially expected to expire with Everything Everywhere)
The exclusive deal with Everything Everywhere could put O2 and Vodafone a year behind from looking at their recent statements:
A spokesperson from Vodafone stated by 2015 they aimed to offer 98% coverage, 2 years earlier than anticipated. *
When compared to Everything Everywhere's recent statement where they promised 98% outdoor coverage for 4G by 2014. **
Vodafone and O2 could raise a petition to Ofcom to use the 3G band for 4G services. This would not work however according to Ofcom who confirmed: "It could take 5 to 10 years to free up the 3G spectrum for 4G"
About CompareMyMobile
Founded in 2009, CompareMyMobile.com is the UK's #1 source for independent mobile phone, tablet, sat nav, laptop, iPad, iPod and games console recycling price comparison. It delivers customers confidence in making the difficult decision of where to recycle their old phone safely and for the most money. CompareMyMobile.com is 100% impartial, comparing prices from more than 40 recycling stores.
CompareMyMobile.com has recycled GBP39 Million worth of old mobile phones in the UK since 2009. We monitor trends in recycling and provide the best gadget recycling statistics.

- Mobile Today Feature 21427
** - BBC technology article19586067