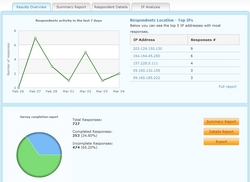 Bucharest, Romania (PRWEB) March 5, 2009
eSurveysPro.com continues to release new features to the already powerful survey builder software. A new "Survey Overview" report was added (available for all users, including Free Accounts). The report displays the respondents activity in the last week, the top IP addresses from where the survey was accessed, the survey completion report and the last responses recorded.
In addition to the overview report, 2 new advanced reports were created for Premium Accounts and above.
The first is the "Respondent Details" report that will list all the survey respondents with the possibility to filter the report by IP address, survey start date and response completion status.
The second report is the "IP Analysis" report that will display the list of all IP addresses from where the survey was answered. Users might find this report useful to track down survey response fraud. If there is an unusually high amount of responses coming from a specific IP address, the user can remove all responses that came from that IP address.
The initial "Survey Summary" and "Survey Detail" reports are still available. The new reports represent the first step eSurveysPro.com has taken into the redesign of the reporting sections to offer our users even more powerful reporting options.
About eSurveysPro.com
eSurveysPro.com is one of the most respected survey software providers. Users around the world, from students to large corporations, use eSurveysPro.com services to create surveys for marketing research, customer satisfaction, human resources or academic purposes. Visit http://www.esurveyspro.com for more information.
###