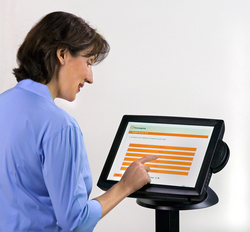 We're focused on capturing the pulse of the customer before they leave the store, the clinic or the museum
San Leandro, CA (Vocus) September 1, 2009
Opinionmeter International, developer of the award winning patient satisfaction feedback system, announced today that they are collaborating with New York City's Metropolitan Hospital Center to help measure patient safety knowledge and experience. Opinionmeter's healthcare survey technologies are helping hospitals educate patients and staff on important patient safety goals. For example, Metropolitan, through a grant from the HHC Foundation, is utilizing Opinionmeter's touch screen tablets and survey kiosks to administer staff training – quizzing staff members on their knowledge of the Joint Commission's National Patient Safety Goals (NPSGs).
The purpose of the Joint Commission's National Patient Safety Goals is to promote improvements in patient safety, which would include improving the accuracy of patient identification, the effectiveness of communication among caregivers and the safety of using medications. In addition, they seek to reduce the risk of health care-associated infections, encourage patients' active involvement in their own care as a patient safety strategy and improve recognition and response to changes in patient's condition.
"The Joint Commission has made patient involvement a priority by including the issue in its National Patient Safety Goals. We strongly believe in doing whatever we can to educate the patient and to involve them in their medical care. The Opinionmeter technology allows us to do this. We are delighted with the findings from our patient surveys, and we are expanding its inclusion to other areas," said Irene Quinones, Associate Director, Patient Safety and Cultural Competency, Metropolitan Hospital Center.
Real-time Point-of-Care Feedback
In addition to administering patient safety training and education, Metropolitan Hospital Center is also using Opinionmeter to capture real-time patient feedback about the provider experience from outpatient clinics.
Opinionmeter's solutions are used in a variety of industries, including healthcare, financial services, the public sector and higher education. They have licensees and equipment in use in countries throughout the world. They are committed to helping organizations gain valuable real-time point-of-experience feedback from their customers.
"We're focused on capturing the pulse of the customer before they leave the store, the clinic or the museum," explains Morgan Strickland, CEO of Opinionmeter International. "Our solution delivers fresh, real-time feedback to organizations, allowing them to improve their customers' experiences, sometimes immediately. We're excited to be collaborating with Metropolitan Hospital Center in adapting our real-time patient feedback technologies to provide additional patient safety and staff training solutions."
About Opinionmeter
Opinionmeter International is a leading provider of technology-based customer satisfaction market research tools. With a range of interactive survey devices, Opinionmeter enables its clients to capture real-time 'voice of the customer' satisfaction feedback at the point-of-experience (the moment the customer experiences the product or service). Built on the Windows platform, Opinionmeter can deploy its system onto a wide range of devices (including handheld, tablet and survey kiosk devices), providing maximum flexibility and device independence. More information, including an online web-demo and Guided Product Tour are available at http://www.opinionmeter.com
About Metropolitan Hospital
Metropolitan Hospital Center (MHC) is the community hospital of choice for residents of East Harlem, northern Manhattan and neighboring communities. Metropolitan provides culturally-sensitive care in a welcoming and hospitable setting, emphasizing primary care medicine and utilizing the latest advances in medical science. At Metropolitan, each patient feels personally cared for and is treated with dignity and respect. Since its founding in 1875, Metropolitan Hospital Center has been affiliated with New York Medical College, representing the oldest partnership between a hospital and a private medical school in the United States. Metropolitan Hospital Center is part of the New York City Health and Hospitals Corporation (HHC), the largest municipal hospital and health care system in the country.
Media Contact:
Morgan Strickland
Opinionmeter International
510-352-4943, x101
###