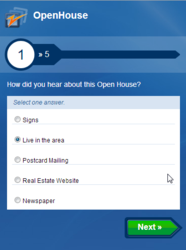 SurveyMobileApp.com provides to Real Estate Agents an easy to use platform to engage potential home buyers via mobile devices, be that iPads, iPhones or Android tablets. No more Open House paper scribbles. Just an engaging and focused buyer understanding,
Washington, DC (PRWEB) January 30, 2013
For Real Estate Agents looking to better engage potential home buyers via mobile devices, SurveyMobileApp.com has good news ahead.
No more scribbled paper. Better, the entire system can be setup in just a few minutes, via an easy to use template system. Best, for the typical agent, the cost is $50 per year.
For Real Estate Agents that want to qualify and engage a prospect during an Open House or a house showing, SurveyMobileApp.com offers an iPad app that collects the answers to the qualifying questions. SurveyMobileApp.com found that prospects are more prone to answer direct questions on status of a mortgage qualification, rating the house shown, or indicating the price point and readiness to buy, if the questions are on an iPad survey vs. the agent asking.
Also, for Real estate agents that want to transform their static "For Sale" sign into a powerful engagement channel, the prospect can now scan a QR code on the sign created by SurveyMobileApp.com, and start a simple survey. The survey qualifies the prospect, and also asks what are the ways to contact back - via e-mail or via phone. Not only that the prospect engages in an easy way with the real estate agent via their own mobile phones, but also provides better data to the agent on what the prospect is looking for.
With two survey templates available for Real Estate Agents, addressing the two most common questions, a real estate agent user can setup a survey in less than a minute. Better, the typical service fee for an entire year costs a flat fifty dollars.
The library of templates speeds up the creation of high quality, proven surveys, be that for capturing intent to buy when a prospect looks at the QR code on the "For sales" Sign, or during Open Houses, when the prospect can respond to a survey on an iPad on the kitchen table. Surveys can be easily customized, and include the agent photo, or the particular house address.
Real time results sharing creates dialog, increases the relevancy of the conversation, and the potential for conversion of a prospect into a home buyer.
Also, capturing richer contact data creates the potential for follow-up via e-mail campaigns, eliminating the transcription errors from the scribbled paper forms.
The app can work offline as well. For Real Estate agents that have an iPad with no carrier data plan, or access to wifi, the survey can still run in an offline mode during an Open House, and the open house prospects can complete the survey. No connectivity required, and hundreds of entries can be entered before the next synch is done, when wifi or carrier signal is available.
MobileAppSurvey.com provides both a native application and a web app. The web app can used by prospects on the spot, by scanning a QR code, and not needed to download the app.
The native app running the surveys on an iPad or Android tablet is not dependent on the connectivity in the field, so can be used in an iPad on the Open House kitchen table, not connected to wifi or carrier.
MobileAppSurvey created this capability in partnership with Zwoor.com Survey, a friendly, robust and cost effective survey platform that enables you to gather real time insight.
The subscription model allows for free trials, with a significant number of free answers as part of the plans.
"SurveyMobileApp.com provides to Real Estate Agents an easy to use platform to engage potential home buyers via mobile devices, be that iPads, iPhones or Android tablets, in a secured way. No more Open House paper printing, and out-of-date information. Just an engaging and focused buyer understanding, for brilliant agent results. Paperless, real-time, efficient." said Ken Burns, External Relations SurveyMobileApp.com.
SurveyMobileApp.com has free versions available, and is available for the iPhone, iTouch, iPad and the Android devices, including KindleFire. For more information, visit http://www.surveymobileapp.com/real-estate-agents/
About SurveyMobileApp.com
SurveyMobileApp.com partnered with Zwoor.com to provide the best survey mobile apps platform available in the market to Real Estate Agents.
Zwoor.com was founded on a simple, powerful idea: people should be able to have the information needed at their fingertips, and provide feedback where it matters – when they are in the meeting or in the product presentation, with their mobile devices. We want to reinvent what businesses and individuals can do through the Zwoor.com mobile platform, made for a new kind of worker, a new kind of workplace and a new kind of interactions.