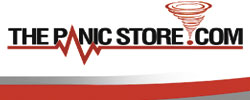 Dublin, CA (Vocus/PRWEB) June 17, 2011
In the event of a natural or manmade disaster, or for embarking on an outdoor adventure, it is best to expect the unexpected. Having the right items on hand can help someone survive for a prolonged period of time if disaster strikes. It also makes a hiking and camping trip more enjoyable. The Panic Store, a one-stop website that features a variety of earthquake kits, emergency survival kits and camping disaster preparedness kits, has an assortment of products for the summer.
A new product, the Long Term Food Storage Essentials Survival Kit, features food and supplies to remain fed for an extended period. The kit contains 44 long-term food storage meals that will feed one person for 14 days or two people for one week. Packaged in a large hiker's backpack, the kit includes the food pouches, a 24-ounce water filtration bottle, capable of removing almost all pollutants from 100 gallons of water, a 4-in-1 radio flashlight, waterproof matches, two Mylar emergency sleeping bags, a portable cooking stove with 16 fuel tablets, a chow kit with eating utensils, a 16-ounce steel cup, a pair of leather palm work gloves and two infectious waste bags.
The survival kit also includes six packs of pocket tissues, a 36-piece pocket first-aid kit, a deck of standard playing cards, a notepad and a golf pencil.
The X-treme Tent package is a kit that contains essential camping items, including a 7.5' X 6.5' tent for two people, a full rain fly, two stools, two sleeping bags and a carrying bag.
Another new product from The Panic Store is preparedness seeds. They are sealed in a can and will keep up to four years if stored at 66 to 70 degrees, and much longer if kept at cooler temperatures. The can contains the equivalent of more than 100 average sized seed packets. Harvested seeds can be planted year after year. The varieties include cans of ancient grain seeds, culinary seeds, Fruit' n Such seeds, garden seeds, medicinal seeds, salsa seeds and emergency garden seeds.
Since pets are a part of the family, The Panic Store has pet disaster preparedness items for them as well.
The 38-Piece "DogGoneIt PEMA" Kit for Dogs contains two blankets, two lightsticks, two dog bowls, a tennis ball, a three-gallon bucket with a lid, one leash, one collar, 12 water packets, a 50-foot rope, six poop bags, a can opener, one bloodstopper, a 58-piece first-aid kit, a pet disaster information and two chew sticks.
The 35-Piece "CATastrophy" Kit for Cats has the same contents as the dog kit, with the exception of cat food instead of dog food, a cat toy and no chew sticks or tennis ball.
About The Panic Store
The Panic Store is a one stop website for all brands, sizes and types of earthquake kits, emergency survival kits and emergency supply products for disaster preparedness serving the San Francisco and Bay Area. For more information, visit http://www.thepanicstore.com.
###