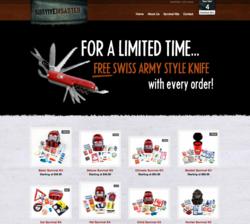 We learned an important lesson [on September 11, 2001]… to be proactive and prepared BEFORE an emergency situation occurs.
Richmond, Virginia (PRWEB) November 19, 2012
SurviveDisaster.com, a leader in emergency preparedness founded over a decade ago, has relaunched with a new site design and new survival kits for individuals, families, offices and classrooms. The new kits are designed using advice from experts in the emergency preparedness industry and follow guidelines given by government agencies and non-profit emergency preparedness organizations.
"With the increased frequency of natural disasters, in addition to the continued rise of global terrorism, an emergency survival kit would be the ultimate gift this holiday season," said SurviveDisaster.com co-owner Dave Hooper.
SurviveDisaster.com focuses solely on high quality, essential kits and supplies—with added value that cannot be found elsewhere. "Our new website makes it simple for customers to buy what they need to be prepared for an emergency without getting overwhelmed with too many options," Hooper continued.
Current product highlights include the deluxe survival kit and bucket survival kit, along with special emergency kits designed for the car, children, pets and hunters—all would make great holiday gifts.
Following the September 11 disaster in 2001, SurviveDisaster.com played an important role in supplying homes and offices with emergency kits. "We learned an important lesson then… to be proactive and prepared before an emergency situation occurs," Hooper said.
Unfortunately, the vast majority of Americans still remain unprepared for the threat of natural disaster and terrorism.
About the Company:
SurviveDisaster.com is a family-run business in central Virginia. For more information, visit http://www.survivedisaster.com or email sales(at)survivedisaster(dot)com.