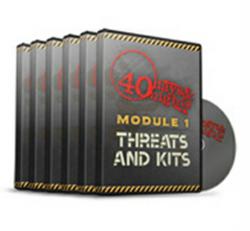 The course includes a series of 6 training modules, each dedicated to different aspects of disaster survival.
Austin, TX (PRWEB) May 03, 2012
A survival guide PDF document with up-to-date, priceless information on disaster recovery is available now from the experts at Absolute Rights. "40 Days and 40 Nights" is their latest release, and it's jam-packed with the most vital survival information compiled from years of firsthand experience.
The most recent AbsoluteRights.com article said that the preparedness level of modern society is far from adequate, and people aren't realizing the very real, very dangerous threats to their well-being that take place almost every day, in all corners of the world.
Wallace Streete, a nationally-recognized survivalist and businessman, has joined forces with the leaders in freedom preservation to produce the "40 Days and 40 Nights" training course. It requires every subscribing member to take personal responsibility for the protection of themselves and their loved ones with ultimate emergency preparedness, said the article.
The course includes a series of 6 training modules, each dedicated to different aspects of disaster survival. Security, safety, health, nourishment, and communication become ten times more difficult after a natural or man-made crisis, the article said. When the economy breaks down and the store shelves are empty, self-sufficiency is the only way to make it through.
"40 Days and 40 Nights" encourages accountability and critical thinking to fully prepare for any disaster. It shares the 25 threats that should be monitored constantly, as well as the three keys to psychological survival.
Survivalist mentalities have grown in frequency and volume over the last several years, and created a full community of people striving for complete preparedness, said the article. The community has a wide range of worries, experience levels, and preparation skills, but what they all have in common is the frame of mind they need to survive the worst.
Absolute Rights informs patriotic Americans on their given rights, plus helps protect those rights from government intrusion. Most importantly, it prides itself on alerting people when their rights are being threatened, creating an active and informed community. For more information, be sure to visit AbsoluteRights.com.
The objective of "40 Days and 40 Nights" is no mystery, the article said. The real point of the training course is to give people a chance to develop their survival skills and ensure the highest hopes of staying alive in the most deadly scenarios possible. The training system, complete with its survival guide PDF, video lessons, additional assignments, and unprecedented disaster information, is now available for subscription.