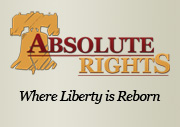 Readers of "170 Gallons a Day" will develop the knowledge to produce their own supplies of water 24/7.
Austin, TX (PRWEB) July 02, 2012
Survival water filters can be made from everyday items and work convincingly well, according to the latest article from AbsoluteRights.com. Harmful contaminants can be completely removed from water, giving people a nearly unlimited supply of water that can be cleaned, stored, and used confidently.
"170 Gallons a Day: How to Purify Any Water—Even Urine—to Store, Drink, and Cook With After a Disaster" is the latest specialized informational e-book offered by the expert team at Absolute Rights. The online article said it is teaching people how to be prepared for any disruptions to a clean water supply, and helping them save money and protect their health in the process.
In the moments following a severe weather disaster or pollution scare, the article said knowing how to clean water will most certainly save lives. Bottled water will fly off the shelves, and the water coming out of a tap cannot be trusted. That's when skills like the ones learned from Absolute Rights' Special Report pay off.
According to the EPA, the agency "sets standards that, when combined with protecting ground water and surface water, are critical to ensuring safe drinking water."
If the EPA has to implement such measures, then the article said there must be cases of contaminant levels above the restricted levels. Even without a natural disaster, previous instances or general runoff pollution can introduce dangerous substances, and the EPA can only do so much to protect American citizens.
"170 Gallons a Day" shows people what water sources can and can't be used after a disaster, and how to provide gallon after gallon of clean, drinkable water for personal and family use. The article said it's a perfect guide for any skill level, and teaches a system that can be applied immediately and easily for instant results.
Some people carry around a reusable bottle every day and call themselves prepared. Readers of "170 Gallons a Day" will develop the knowledge to produce their own supplies of water 24/7, said the article. It's the raw information and step-by-step directions for foolproof water cleaning procedures.
Absolute Rights informs patriotic Americans on their given rights, plus helps protect those rights from government or disaster intrusion. Most importantly, it prides itself on alerting people when their rights are being threatened, creating an active and informed community. For more information, be sure to visit AbsoluteRights.com.
Water is a fickle substance, the article said, and can look, smell, and taste perfectly clean. But the only way to know for sure is to use the methods taught by "170 Gallons a Day." Pass on all the expensive store-bought filtering systems, and learn the right way to make survival water filters with Absolute Rights' expertise, said the article.