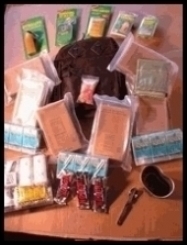 (PRWEB) August 31, 2006 -–
A survival kit distributor is recommending people making preparations for the "big one" stock up now before prices escalate.
Prices on MREs and survival kits are about to go up because Sopakco, a manufacturer of Meals Ready to Eat (MREs), has announced it will soon raise the price of its MREs by as much as $3, says Tom Sciacca, President of http://www.CampingSurvival.com , a company specializing in the sale of MREs, water purification systems and other survival gear.
He adds that making an survival kit purchase right now, in addition to its lower cost, is a wise one because the 2006 hurricane season is far from over. Atlantic hurricane season, which officially starts on June 1, continues through Nov. 30. These dates encompass over 97 percent of tropical activity.
One of the survival kit essentials Sciacca recommends is the MRE, which have become well known because the military has purchased them to replace the much-maligned C-rations. MREs have a shelf life of up to 12 years, require no water to reconstitute, and can be eaten right out of the bag since they're already cooked. CampingSurvival.com carries a full selection of MREs from Sopakco, a distributor that is one of the official MRE suppliers for the Department of Defense.
Examples of MRE entrées are: Beef Stew Beef Ranchero Meat Loaf Cheese Tortellini, Beef Ravioli Minestrone Chili, with Macaroni Jamaican, Pork Chop, Chicken with Cavatelli, Beef with Mushrooms, Red Beans with Rice, Pasta with Vegetables, Black Bean and Rice Burrito, Spaghetti with Meat Sauce and Chicken & Rice Pilaf.
Ideally, families should have supplies available in their survival kit to insure survival during hurricane season for at least three days during a natural disaster or other event, said Sciacca, which is the estimated time needed for relief to reach areas struck by a hurricane or other emergency situation.
In addition to MREs he said another essential for emergency situations is water purification. CampingSurvival.com offers several systems from water filters to chemical purifying agents at http://www.campingsurvival.com/watpur.html . These are also worth keeping on hand as contamination of local water systems becomes an increasingly common occurrence – an all-too real threat during hurricane season.
About http://www.CampingSurvival.com :
CampingSurvival.com is a subsidiary of JHL Supply, a leading vendor of HVAC tools and equipment. The company is continuously updating and adding new hurricane and natural disaster survival products to the Web site while maintaining the ease of use that customers appreciate. It specializes in offering water purification products and products usable in a survival kit. For more information on natural disaster preparedness and hurricane season visit the website.
Contact:
Tom Sciacca
1-800-537-1339 x 221
http://www.campingsurvival.com
###