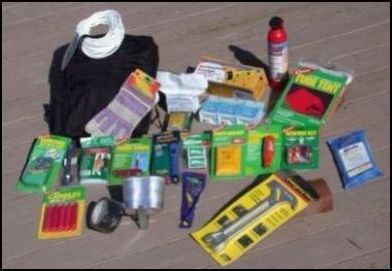 With the recent story about the family getting stranded in the wilderness and with winter here, we are always trying to get people to make sure they have emergency gear and survival kit in their vehicles
(PRWEB) December 19, 2006
A survival kit containing MRE meals should be installed on every vehicle, especially when traveling through unfamiliar territory, remote terrain or long distances, says Tom Sciacca, President of http://www.CampingSurvival.com, a company specializing in the sale of Meals Ready to Eat (MRE ), water purification systems and other survival gear. Such a precaution could have helped the family of James Kim who recently became lost in the back country of Oregon.
Kim's family, who live in California, were on their way home from a Thanksgiving dinner and vacation when they became lost and stranded in the back country of Oregon during a snowstorm. James died a week later while trying to find help for his family.
"With the recent story about the family getting stranded in the wilderness and with winter here, we are always trying to get people to make sure they have emergency gear and survival kit in their vehicles," Sciacca says. "Not only is this important in the Northwest, but even Virginia is having below freezing temperatures. Most people don't realize that you can die of hypothermia even in 50 degree temps."
Kim's family was last seen at a Denny's restaurant on the night of Saturday, November 25. Shortly after, they became stranded in the wilderness back country of Oregon when they took a wrong turn down a logging road and got stuck.
During the ordeal, the Kims fed their children baby food and crackers. Kati Kim also nursed their 7-month-old baby and, when their food ran out, breast-fed their 4-year-old daughter. For heat, the family ran the car sporadically to keep warm as temperatures dipped below freezing at night -- until the gas ran out. After that they set a spare tire on fire and eventually burned all four tires for warmth.
James Kim then set out on his own on Dec. 2, wearing nothing but street clothes, to get help. The 35-year-old walked 10.24 miles before collapsing, dying of exposure and hypothermia. His wife and children, ironically, were rescued only two days later at the original site of the stuck car. A survival kit in their car could have made a difference in the outcome, Sciacca reasons. By having one on hand he could have waited longer for search-and-rescuers to arrive. Failing that, he still could have increased his chances of surviving once he made the decision to set out and get help.
Kati and her daughters were found when searchers saw her waving an umbrella. She had just made the decision to set out as well. James Kim's body was found about a half mile south of the family's car at the foot of a huge cliff, after he had looped around in a circle.
One of the survival kit essentials Sciacca recommends is the MRE, which have become well known because the military has purchased them to replace the much-maligned C-rations. MRE have a shelf life of up to 12 years, require no water to reconstitute, and can be eaten right out of the bag since they're already cooked. He also recommends a survival kit contain a compass, wool blanket, socks, hat, gloves, traction device, and water purifying agent.
About CampingSurvival.com (http://www.campingsurvival.com)
CampingSurvival.com is owned by Tom Sciacca, who is also president of JHL Supply, a tool supply company, established in 1956 by his grandfather. In 1996, he made the move to the Internet and started HVACtool.com, which carries the entire product line of JHL Supply. As a camper, hunter, and former Marine, he has a great love of the outdoors. Many of the products he carries are ones he has researched, sought out and purchased from various sources for his own personal use before starting CampingSurvival.com. The company has proudly become the source for all camping, survival and emergency supplies on the Internet, including a variety of survival kits, emergency food packs and necessities for helping families make it through a devastating storm.
Contact:
Tom Sciacca
1-800-537-1339 x 221
http://www.campingsurvival.com
###