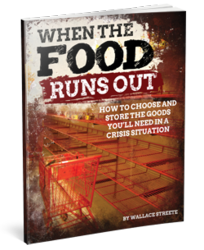 "When the Food Runs Out" stresses that people can't eat good intentions, and they can't survive off of skills and knowledge if they don't have the right supplies.
Austin, TX (PRWEB) August 21, 2012
Survival supplies are easy to accumulate prior to a disaster, but once news of the crisis hits, the most recent Absolute Rights article said there will be no time left to get prepared. Even temporary panics can lead to local essentials being completely wiped out of all stores, leaving the unprepared out of luck.
Fortunately, the article said there are simple ways to stockpile and maintain a supply of emergency food, water, and other vital items, and it's fully explained in the new Special Report from Absolute Rights.
"When the Food Runs Out: How to Choose and Store the Goods You'll Need in a Crisis Situation" has been released to the public by Absolute Rights, and the article said its innovative methods of preparing a food and water supply will help anyone get a better sense of disaster essentials.
Many people don't fully consider the vulnerability of America's food supply, according to the online article. They take their dinner plates for granted and wrongfully assume they will always be able to buy more food at any time.
In reality, the article said our country is already facing a desperate scenario because of heat, lack of rain, and an unstable food supply system. Food may begin slowly disappearing from store shelves, but not before its prices skyrocket, said the article.
The trust in our society's modern and sophisticated systems of food and water supplies has caused many to be drastically unprepared for the worst kinds of disaster, the article said.
Unfortunately, not enough time and effort goes into most preparations, and people are committing costly mistakes that could make them worse off than others, said the article. "When the Food Runs Out" gives people a blueprint to use when accumulating supplies, and makes sure nothing is missed or overlooked.
Most importantly, "When the Food Runs Out" contains comprehensive lists to use as preparation plans, and advises on the best kinds of supplies for any type of emergency. The article said complexities involved in a properly prepared food supply run deep, and understanding the objectives of a disaster supply will come easy to those who read the Special Report.
"When the Food Runs Out" stresses that people can't eat good intentions, and they can't survive off of skills and knowledge if they don't have the right supplies. Managing an emergency food stockpile will be a simple process once the Special Report is absorbed, said the online article.
Absolute Rights informs patriotic Americans on their given rights, plus helps protect those rights from government or disaster intrusion. Most importantly, it prides itself on alerting people when their rights are being threatened, creating an active and informed community. For more information, be sure to visit AbsoluteRights.com.
When a crisis hits, the article said there's no telling what state of mind the unprepared will be in. On the contrary, those who have taken the time and put in the effort to get ready for the worst will have a peace of mind unreachable by others. The article suggested making sure the survival supplies that are needed most are available by accessing "When the Food Runs Out" today.