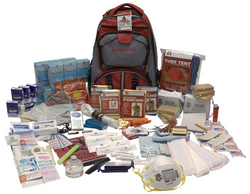 Instead of struggling to find food during and emergency or natural disaster, you and your family can dine on lasagna, beef stroganoff, and blueberry pancakes.
Peachtree City, GA (PRWEB) June 30, 2010
In the past one of the drawbacks of long term emergency food in most survival kits was the taste. In response to this, Survival Gear Outpost introduces a line of gourmet meals to their product list, making survival backpacks a perfect gift idea. These meals can be stored for 25+ years, while maintaining their freshness and nutritional value. "Instead of struggling for food and water in an emergency or disaster situation, you and your family can dine on lasagna, stroganoff, or blueberry pancakes. All you need hot water; these meals are a perfect fit for your survival kit and disaster planning" - Roger Sibaja, owner SurvivalGearOutpost.com, a company specializing in survival kits and emergency supplies . Not surprisingly, survival kits have become a popular gifts. As family, friends, and loved ones are sending these items as gifts, especially to those who live in areas of the country prone to natural disasters.
The National Weather Season warns that there is an 85% probability of above normal Hurricane activity this season. This fact and several recent sever natural disasters have prompted us to think and plan more deliberately about disaster preparedness. Perhaps it is Global Warming or blockbuster movies like 2012, but the sale of survival backpacks is doing great, even in a sluggish economy.
The Federal Emergency Management Agency (FEMA), and other government websites such as Ready.gov and CitizenCorps all recommend having an emergency pack with at least 3 days worth of food, water and essentials such as flashlights, matches, first aid kit, solar cell phone chargers etc. Despite having several different names such as a survival backpack, 72 hour survival kit, disaster kit, or hurricane/earthquake/ survival kit, they all consist prepackaged backpacks or other easy to carry containers with life sustaining supplies.
With Survival Gear Outpost's new gourmet line of long term emergency food, you can insure your family can still enjoy delicious meals for an extended period of time. Several prepackaged sets provide enough food to sustain a family of four from 3 days up to 12 months.
###