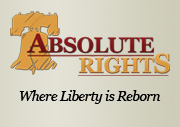 Anyone can make the most out of polluted water supplies by learning how to purify it and ensure that it's safe to use.
Austin, TX (PRWEB) July 03, 2012
Finding the right survival water filter for a disaster situation will make the life-giving source easily accessible, but only with the right preparations and knowledge, according to the most recent AbsoluteRights.com article. If people can learn how to clean water and make it potable, they will be able to provide an essential element of survival to themselves and their families. But if they make a mistake, the article said the end result could be horrible.
To help avoid mistakes and learn the proper ways of water purification, Absolute Rights has released the Special Report "170 Gallons a Day: How to Purify Any Water—Even Urine—to Store, Drink, and Cook With After a Disaster." It is the most comprehensive water cleaning e-book ever created by Absolute Rights, and it is already helping ordinary citizens become fully prepared for any disruptions to a water supply, said the articles.
The Special Report advises one half gallon of water per person per day for survival necessities, and even more for cleaning and hygiene purposes. That can be accomplished with the easy-to-understand process described in "170 Gallons a Day," said the article.
Anyone can make the most out of polluted water supplies by learning how to purify it and ensure that it's safe to use. Once they know how to clean drinking water, the article said people will rest easy knowing their H2O needs are fulfilled.
"170 Gallons a Day" informs people on the steps to take to ensure a plentiful supply of water that is at their disposal. It is a proven, time-tested strategy for producing gallon after gallon of clean water. The supplies needed are easily and inexpensively acquired, and the article said the necessary skills are explained in full.
Dehydration is the number one killer in disaster situations, said the online piece. If a hurricane, flood, or other catastrophe destroys the ability to access clean water, survival hopes are drastically decreased. "170 Gallons a Day" provides information on safely storing water to cut down on uncertain water supply dependence. That way, the article said the personal water problem will be solved.
The Special Report shares the most vital information, boiling all there is to know about clean water down to a 20-minute read. The trial and error has been completed, so there's no need to learn from mistakes when they can be completely avoided. The article said people will gain insight from top professional sources and learn the system that works best under any circumstances.
Absolute Rights informs patriotic Americans on their given rights, plus helps protect those rights from government or disaster intrusion. Most importantly, it prides itself on alerting people when their rights are being threatened, creating an active and informed community. For more information, be sure to visit AbsoluteRights.com.
More than 127 hours of research went into "170 Gallons a Day," and it is now available for anyone concerned about their water needs. To find out the secrets behind the perfect survival water filter, the article said to get a hold of the Special Report.