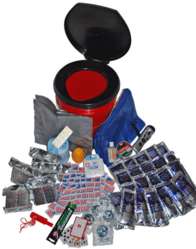 Together keeping our Classrooms Safe
Janesville, Wisconsin (PRWEB) September 01, 2011
Disaster survival is a concern for every school and most have a safety plan in place. School survival kits are kept on the premises; and contain things like first aid supplies, food and extra clothing. Some schools even require its students to bring in their own emergency survival kits at the beginning of the school year. Disasters like tornados and school shootings are among the top two priorities a school needs to prepare for.
The most important rule for tornado safety is to first move every student to the lowest level of a building as quickly as possible. This is because the roof of a building can be torn off by the strong winds of a tornado. Flying debris also poses a threat to the students, and for this reason, it is important to put as many walls between the students and the tornado as possible. Students should be removed from any area containing windows so as not to be struck by flying debris and glass, and should be instructed to get down low and protect their head with their arms. Trailer classrooms pose a significantly higher threat due to their portability and limited building strength. It is extremely important to remove students from trailer classrooms when there is the threat of a tornado. A good school alarm system should be a priority, even in the instance of a power outage. Special precautions should be made for those with disabilities. Emergency survival kits should be kept in a place where they are readily available when needed. Lastly, there should be school official who knows how to turn off the electricity and gas at the school in question.
In the early 1990's school shootings occurred with horrifying frequency, making it necessary to protect our children from a different kind of disaster. After tragedies like the shooting at Columbine High School at the hands of fellow students, and the death of several Amish students in Pennsylvania from an adult intruder, it is necessary to instruct our children in disaster survival skills in case of a school shooting. Most schools have a plan in place for this that involves students running to nearby classrooms and teachers locking the doors so an intruder cannot enter. Students are instructed to crouch down under desk protecting their heads with their hands while remaining quiet. While this is a sound and necessary plan, another plan should be implemented that involves prevention of a school shooting. Most school shootings occur from fellow students who have been tormented by other students. Counseling students against bullying, and encouraging other students to report a bully, can go a long way in preventing a school shooting.
Some schools can also be used as a shelter for its surrounding community in case of disasters like tornados, hurricanes, and community fires. Most emergency broadcasting systems that can be heard on the radio or through the television, will instruct individuals on which schools are available as shelters.
Every school should have a disaster survival plan in place, and every effort should be made to review the plan and improve it accordingly. School survival kits should always be maintained, and regular drills should be performed so every student knows what to do in case of a disaster emergency.
About: survivaltools-equipment.com
Contact:
Vicki Pabst
VIP Global Enterprise, Inc.
608-563-1044
###