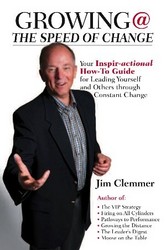 Toronto, Canada (PRWEB) October 14, 2009
In today's economic climate, individuals and entire organizations are overwhelmed by continuous changes in leadership, direction and priorities. With so many factors beyond the control of supervisors, managers and executives, it's easy to forget the one thing individuals can control is their reaction to change.
Change isn't news. But the dramatically accelerating pace of organizational change is.
It's impossible to predict where all this change is taking us. But one thing is certain - the pace of change is going to continue. To thrive in turbulent times, organizations must work with individuals to change perceptions and behaviors if they stand any chance of changing results.
That's why leading change expert, Jim Clemmer, wrote his latest book, Growing @ the Speed of Change: Your Inspir-actional How-To Guide for Leading Yourself & Others through Constant Change. For Clemmer, the key factor separating successful organizations from the rest of the pack is their ability to help everyone accept, and adapt to, a culture of constant change. The book's key theme is leadership is an action not a position. When developed across an organization Clemmer explores how leader behaviors reverse the draining forces of change fatigue, de-motivation, and slipping morale. More importantly Clemmer shows how leaders are found at all levels and all roles.
Growing @ the Speed of Change shows how organizations can develop broad-based leadership behaviors and foster a new appreciation for the opportunities constant change brings.
Growing @ the Speed of Change is the culmination of over three decades of research, writing, and personal application. It's a positive "call to action" for thousands of clients and workshop participants who are dealing with tough changes and adversity.
For the past 20 years, Jim Clemmer has lived in Waterloo Region, while travelling the world speaking, consulting and training. For nearly 30 years Jim's practical leadership approaches have been inspiring action and achieving results, with his seven best-selling books translated into a variety of languages and distributed around the world.
Jim has delivered over two thousand customized keynote presentations, workshops, and retreats, as well as consulted and coached executive teams at hundreds of major companies, the public sector, universities, family businesses, and healthcare organizations.
To receive a complimentary copy of Growing @ the Speed of Change for review please visit our Media Review Page. You can also request an interview online here.
###