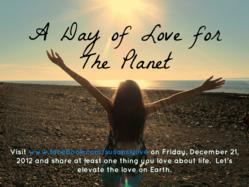 "Love is the most powerful emotion we have," say Mrs. Sly. "When we express our love, we elevate the consciousness of the entire world
(PRWEB) December 18, 2012
Given the recent tragedies, fear and pain that has been occurring all over the world, author, International speaker and entrepreneurial coach Susan Sly will be hosting "A Day of Love to Heal the Planet" on Friday, December 21, 2012. The purpose of this event is to help people come together in love and gratitude. To be part of this great event, please visit https://www.facebook.com/SusanSlyLive.
On Friday, December 21, 2012, Susan Sly is encouraging people to visit her Facebook Fan Page and leave a message about at least 1 thing that they love about and are grateful for in their life.
"Love is the most powerful emotion we have," say Mrs. Sly. "When we express our love, we elevate the consciousness of the entire world. Please join me, on this page, on Friday, December 21, 2012 and share at least one thing you love about your life, the world, God, or anything at all. Let's send our love to the planet."
About Susan Sly: Susan Sly is a balanced living expert. She is the author of five books, speaker and self-made multi-millionaire. She is also the creator of the highly acclaimed audio meditation series "The Shift". Mrs. Sly has appeared on ABC Family Television, the CBN, Lifetime Television and written for Dianne Magazine, Oxygen Australia and many more. Susan practiced as a certified personal trainer and nutritional consultant for 15 years. She has guest lectured at universities and taught nutrition at the college level. Susan dedicates time to philanthropy and projects that benefit women and girls all over the world. Susan and her husband, Chris, are also parents to four children ranging in age from 3 years to 15 years. Susan believes that women can have it all. For more information on Susan Sly, please visit http://SusanSly.com