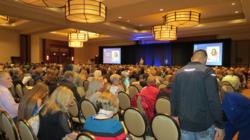 I firmly believe that we can have it all and that when we have a solid foundation of optimal health anything is possible
Phoenix, Arizona (PRWEB) January 08, 2013
Author, speaker, trainer and balanced living expert, Susan Sly recently spoke at the 'New Year Kick Off' National Convention for Isagenix™ in Phoenix, Arizona on Friday, January 4. In addition to Ms. Sly, the event featured Isagenix Co-Founders Jim and Kathy Coover and Top Performance Coach & Business Speaker Les Hewitt.
Ms. Sly's presentation was titled 'The Habits of 7 Figure Income Earners' and spoke in front of packed room of almost 1,000 people about the tips and techniques for creating a schedule, finding time to get a workout in, building a Isagenix™ business and leading a balanced and productive life.
"What is the difference between someone who is super successful and someone who is not?" asks Susan Sly. "The number one enemy of success that I've observed is lack of habits. Why do so many people have bad habits? In many cases, it's due to the lack of organization. If you want to make a million dollars a year, then you have to have million dollar habits and you've got to be organized like a millionaire."
For more organization tips from Ms. Sly, please visit here.
Ms. Sly's passion for assisting women in conjunction with her own health challenges led her to partner with the billion dollar company in 2003. After renewing her health and seeing the results that others were getting, she decided share not only her message of hope that is fostered by Isagenix ™, but tips on how to develop habit that will allow anyone to have it all.
'I firmly believe that we can have it all and that when we have a solid foundation of optimal health anything is possible,' says Ms. Sly. 'Going through several years where I had to put my dreams on hold due to poor health, I can speak from experience. So many women and men are struggling with lack of energy, increased weight and cannot find a healthy solution to solve these problems. We are living in a toxic society and one of the keys to balanced living is to cleanse the body which inherently leads to a greater upliftment and a more positive outlook.'
For more information on Susan Sly, please visit http://www.susansly.com/about-susan/