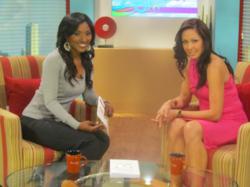 Ontario, Canada (PRWEB) July 10, 2012
Bestselling author, International motivational speaker, and entrepreneur coach Susan Sly will host a webinar this Tuesday, July 10, at 9pm on '5 Strategies to Maximize Your Tax Deductions' with former IRS trainer Sandy Botkin. To register for this free webinar, simply click here.
"Most people would agree that taxes are life's biggest expense," says Susan Sly. "Taxes have a huge impact on your ability to accumulate wealth. In fact, lowering your taxes legally can be the quickest way to build wealth! This is why I've asked best-selling author on the subject and former IRS trainer Sandy Botkin to attend and speak on the subject."
Mrs. Sly recently appeared on 'The Balancing Act', which appeared on Lifetime Television, to discuss her highly acclaimed book "The Have It All Woman". Her passion is to teach entrepreneurs of all kinds that with the right state of mind and knowledge, they can truly have anything in life they desire. This webinar is just another facet of educating business owners on how they can profit.
"In this webinar, we'll be covering the hot tax topics that are on the minds of every business owner," continues Mrs. Sly. "We'll cover how to write off meals & entertainment, medical expenses (even dental and vision), your home office, and even your automobile and more."
To register for this free webinar, simply sign up here.
Mrs. Sly has been featured on television, radio, print media and has speaking engagements booked into next year. She has appeared on ABC Family Television in the United States, Change Nation, The Morning Show in Australia and been quoted in Forbes Magazine. Susan is an in-demand transformational speaker and trainer. She has shared the stage with Mark Victor Hansen, the late Jim Rohn and more. Mrs. Sly has inspired thousands of people to live their dreams and create a life of abundance and fulfillment.