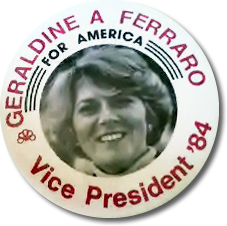 This season we have all been exposed to views from a myriad of women ... "from Sarah Palin who says Susan B. Anthony is one of her heros to Ellen Komp of Cannabis Connoisseur who uses the occasion to celebrate marijuana mammas."
Adams, MA (Vocus/PRWEB) March 31, 2011
Women's History Month ends with the death of a leading women's rights figure, Geraldine Ferraro. A lapel button supporting her run for vice president in 1984 still graces my office bulletin board. A trailblazer in the political realm, Ferraro can be rightly added to the many women who staked their historical claim for equality.
This month the public heard from a myriad of other women, from Sara Palin who says Susan B. Anthony is one of her heroes to Ellen Komp of Cannabis Connoisseur who uses the occasion to celebrate 'marijuana mammas.' It's enough to give any 21st century woman an identity complex. How did we get into this conundrum?
The First Wave of feminism ended abruptly in 1920 with the passage of the Susan B. Anthony Amendment giving women voting rights. But that 70-year struggle wasn't without its own identity crises. The most famous was the 21-year split between women who supported giving Negros the vote only if women were included and those who supported the Negro vote even if it didn't include women.
Ferraro, along with Betty Friedan and Gloria Steinem, were icons of feminism's Second Wave. They pushed for justice issues, like equal pay for equal work and educational opportunities. This period in the '70s and '80s mirrored the '60s civil rights movement: The right to vote might be guaranteed, but otherwise we were relegated to the back of the bus. Posters in my attic tell the story of the social issues of the day: 'Feminization of Poverty,' 'Every Child a Wanted Child,' and 'Day Care: We want it NOW.'
To address this inequality, Bill Baird and abortion doctor Henry Morgentaler led the charge, suggesting that abortion rights be an integral platform for the National Organization of Women (NOW). After all, how were women going to climb the corporate ladder if they had to take extended leave to care for children whenever they got pregnant?
Abortion rights created a rocky transition from First to Second-Wave feminism. Alice Paul, who is credited with the final push for the vote for women, authored the Equal Rights Amendment (ERA) in 1923 as a way to gain equality in other spheres. But Paul herself predicted the failure of this 50-year struggle for ERA if it included flag waving for abortion rights, a right her suffrage predecessors universally condemned ("An Interview with Miss Alice Paul," by Robert S. Gallagher, American Heritage Magazine, February 1974, Vol. XXV, Issue 2). The defeat of the ERA in 1976 and Alice Paul's death in 1977 were more than close calendar events. They represented a division in the women's movement that the Second Wave was never quite able to overcome.
Rather than address the cause for the division, Third-Wave feminists promulgated the division through a new strategy: social media. Unlike the tactics of the Second Wave—face-to-face confrontations, circulating petitions, and standing on street corners with signs—the Third Wave has employed more impersonal but highly sophisticated forms of communication and with new audiences. Embracing derogatory terminology, like queer studies and bitch, they 'negotiate a space' for prostitution, pornography, and the unionization of sex work. The shining tooth, perfect smile of Marlo Thomas's free-to-be-you-and-me decade of the '80s and '90s has morphed into the 'hook up' generation of today's Riot Grrrl and the Bikini Kill Band. As one over-confident and buff Third Waver explained, "We're represented by pole dancers."
A Fourth Wave is emerging quietly, trying to find its identity in a diverse field of introspective contenders. Will we be the disillusioned women of the Second Wave who learned that nearly 40 years of abortion didn't fix rape or lessen the number of poor women? Or the anti-Viet-Nam-War-Joan-Baez groupies who can't quite figure out why the Third Wave fought hard to include women and gays in the military instead of just fighting the military? Or maybe we will be young, disenchanted Third Wave women who find out that the jingoism of 'My body, My choice!' isn't compatible with 'It takes a village'? Will they be joined by the thirty-something alumni of the transgender studies classes who learned that feeling better 10 years after your abortion is a fiction?
What would Ferraro make of this? Would she wonder as I did, when at a Women's History Month event, an Eleanor Roosevelt Scholar said that out of the eight students who took her course in women and politics, why only two students would use the 'f' word to describe themselves? Maybe the other six women represent the evolving Fourth Wave feminists who unwittingly more closely identify with Susan B. Anthony and the First Wave. Could our evolution be cyclical, like shoulder pads and pointed shoes, where we enfold the rights of the unborn and her mother in a more comprehensive interpretation of human rights? Perhaps this is what our foremothers meant when they said 'Not for Ourselves Alone.'
Written by Carol Crossed.
To learn more, please visit http://www.susanbanthonybirthplace.com/index.shtml
###