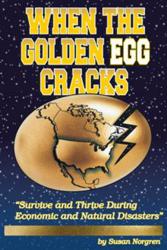 SEDONA, Ariz. (PRWEB) April 10, 2013
In her new book "When the Golden Egg Cracks: Survive and Thrive During Economic and Natural Disasters" (published by Balboa Press), author and medium Susan Norgren presents the words and warnings of the enlightened being DreamMyst, whom she channels.
"When the Golden Egg Cracks" is about the economic, political and physical changes taking place in the world now. In the face of these challenges, readers will learn how to survive, thrive and prosper beyond 2012.
The book focuses on the United States but relates to the world. The author predicts an increase in the Earth's natural disasters and a disruption of the economy and governments worldwide. "All governments are corrupt," Norgren writes. "Global economies are connected; if one collapses the domino effect begins and every economy in every country eventually collapses. Only those countries that are not globally connected will have a chance of surviving."
An excerpt from "When the Golden Egg Cracks":
"It is the questions you ask, that allow me to see and know what is occurring in your world. My voice comes through Susan Norgren and allows me, DreamMyst, to share with you. I do not sit on a cloud looking down at what is going on in the world. Instead, I receive the energy of the questions for perspectives and insights. Thank you for asking my beautiful beings of light!"
"The Golden Egg is your world," says DreamMyst, through Norgren. "It is cracking." For more information, visit http://www.dreammyst.com.
"When the Golden Egg Cracks"
By Susan Norgren
Hardcover | 6 x 9 in | 348 pages | ISBN 9781452554402
Softcover | 6 x 9 in | 348 pages | ISBN 9781452554389
E-Book | 350 pages | ISBN 9781452554396
Available at Amazon and Barnes & Noble
About the Author
As a deep-trance channel, Susan Norgren speaks for enlightened beings. The beings use their own voices, gestures and mannerisms. As a psychic and medium, Norgren's spunky approach touches the soul. She has been practicing metaphysical arts for more than 30 years and has the experience to understand and communicate on both the physical plane and in the higher realms. For more information, visit http://www.susanpsychicmedium.com or http://www.shamanicshifts.com.
Norgren is also the author of "Living Intuitively," "Intuitive Tarot," "Secret Spa Bath Treatments for the Home" and "Lost Pallies: The Afterlife Has Found its Voice and Now It Won't Stop Talking."